SHOP OUR TV ADVERT
Here at Chums we have a large variety of trousers to suit any man's wardrobe. Coming in a range of styles, colours and sizes from 32" – 64", you will find the perfect trouser for any occasion you have planned, and with prices starting from only £12.50 per pair you will be guaranteed both quality and value.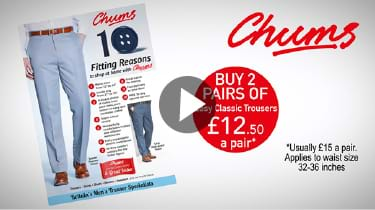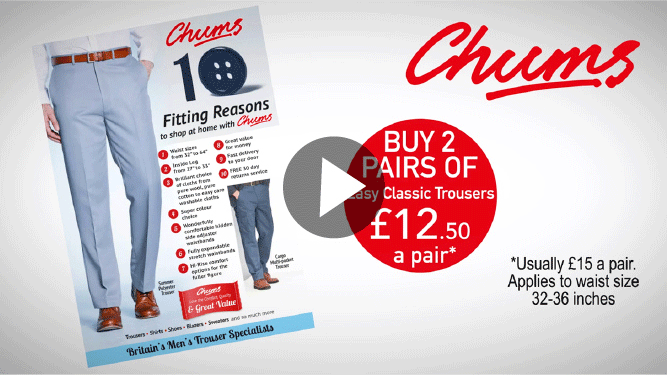 Our men's formal trouser range includes many well-known quality brands such as Farah and Pegasus. With a wide choice to choose from in a large range of colours, sizes and in both high rise and standard fittings, you will be spoilt for choice here at Chums.
We have a range of comfortable, stylish and practical trousers available for you to choose from. From Chinos, to jeans, to action styles available – no matter what outing you are going on, we have the perfect casual trouser just for you.
With delivery direct to your order why not take a look at the whole Chums collection. From ladies, to home, to footwear items, we are the one stop shop for all your house and fashion needs. With a free 30 day returns service, there is no better time to shop than now.
Terms & Conditions
Free Standard delivery is on our UK standard delivery service worth £5.45. Only one media or promotion code can be used per transaction. It is not transferable, nor can it be used in conjunction with any other offer or discount.