We have noticed you are using an older version internet browser. To gain the best experience from our site we recommend upgrading your internet browser.
How should men's dress shoes fit?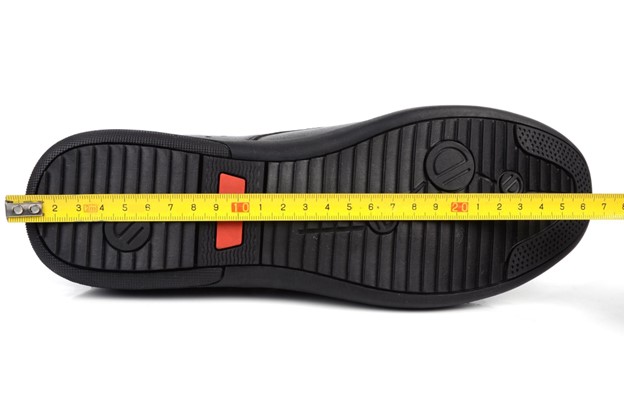 Have you ever wondered how your dress shoes should fit? Many people think that men's formal shoes are uncomfortable by their very nature. But this doesn't have to be the case. The truth is, different brands, shoe types and styles will all fit slightly differently. So whether you're wearing dress shoes with formal trousers to a wedding or you're styling them with jeans for a relaxed business meeting, your feet should feel comfortable at all times.
Here at Chums, we have created a set of guidelines for you to follow to help you to get the right fit for you.
How should men's shoes fit?
Men's shoes should fit comfortably, not too big or small, nor too loose or tight. With your heels against the back of the shoe, your toes should not come into contact with the front of the shoe. In fact, you should aim to have at least half an inch of extra space between your toes and the toe of the shoe.
You should also be able to fit a finger snugly between your heel and the heel of your shoe. If your finger slips in very easily, you may need to size down and if it's difficult to squeeze your finger in, you will probably need to size up. If the heel of your shoes slips too much as you walk or you feel stitches or seams rubbing against your heel, you're likely to end up with blisters as a result.
When breaking in a new pair of dress shoes, they can sometimes feel uncomfortable. Here are some things to remember:
Wear socks – As you will be wearing your dress shoes with socks, it makes sense to wear socks when breaking them in. Not only is this good practice from a hygiene point of view, but it can also help you to identify if the shoe is too tight, too roomy or otherwise uncomfortable.
Always lace them up as you normally would – It may seem obvious, but breaking in your dress shoes as close to normal circumstances as you can, will help them to mould to your feet to be as comfortable as possible when you come to wear them for real.
Move around and test the shoes out – Make sure that you fully test out your shoes by walking around. Getting up and having a wander will give you a good indication as to whether these are the shoes for you.
How to measure men's shoe size
To help ensure you choose the correct shoes for you, it's a good idea to measure your feet. With these simple steps and a piece of paper, a pen and a tape measure or ruler, you can measure your own shoe size.
Put the piece of paper and your heel against a wall. With a pen, trace the outline of your foot as closely as possible. It's important you do this for both feet.


Using the outline, measure a line directly from the tip of your longest toe to the bottom of your heel. This will give you the length of your foot in inches.


Add 1-1.5cm to the length of your outline to give your feet a little extra space. Always use the measurements of your larger foot.


You can compare your measurements against shoe size charts to find the right shoe size for you.
You should also remember to take the width of your foot into account. If you have a wider than average foot and you experience pinching or rubbing when wearing regular width shoes, you may want to consider trying some wide fit shoes.
How to lace up men's dress shoes
You may not have thought much about how to tie your dress shoes, but this can have a significant effect on how they fit. To ensure your feet are comfortably snug, you should avoid tying them too tight or too loose. Generally speaking, you should be able to slip two fingers between the eyelets of your shoes. If there's only room for one, your shoes are probably too tight and if you can get three in, your shoes may be too loose.
There are several styles to choose from when it comes to lacing up dress shoes, including:
Criss-cross – This is one of the easiest ways to lace up your dress shoes. This is a classic style that normally comes when you buy dress shoes and can be especially good for narrow feet.
Diagonal – This is a new and modern method for your shoes and results in matching parallel lines. This design looks best the more eyelet pairs you have on your shoe and can be more comfortable for wider feet.
How much height do men's dress shoes add?
Men's dress shoes typically add between one and two inches to your height. However, factors such as the size of the heel and the style of the shoe can affect how much elevation a shoe will add.
Copyright © 2023 Chums
PayPal Representative Example:

Representative 23.9% APR (variable) Purchase interest rate 23.9% p.a. (variable) Assumed Credit limit £1,200

Finance provided by PayPal Credit. Credit subject to status. Terms and conditions apply. UK residents only.

CHUMS, Unity Grove, Knowsley Business Park, Liverpool, L34 9AR, acts as a broker and offers finance from PayPal Credit. PayPal Credit and PayPal Pay in 3 are trading names of PayPal UK Ltd, Whittaker House, Whittaker Avenue, Richmond-Upon-Thames, Surrey, United Kingdom, TW9 1EH.