Known for being sleek in appearance, suede is a popular clothing material. It's primarily used for shoes, but while it presents an appealing design, it's also susceptible to picking up dirt, mud and other stains.
Obviously, this is to be expected from any shoe, but unlike leather and cotton shoes, there's more chance of it becoming dirty due to its fuzzy, velcro-like coat. Stains are unavoidable, but finding the correct method of cleaning your shoes is important in the process of removing the stain completely.
How to clean black suede shoes
Black suede shoes are the perfect addition to any outfit, working with both formal and casual attire. However, the seamless appearance can be somewhat tarnished if the suede has become damaged by the elements. When this happens, the striking jet black colour can look closer to dark grey, ruining the look.
A priority for cleaning black suede shoes is to not cause further damage or discolour them by being too harsh on the material. Instead, use a soft brush to gently remove any dirt and only use more power when you're suitably happy that it won't cause any irreparable damage.
If they're soaking wet, you can even use a light scattering of talcum powder to dry them without damaging the material. Once the shoes are dried, any excess talcum powder can be brushed off. You should then leave them to dry in a warm, dimly lit area.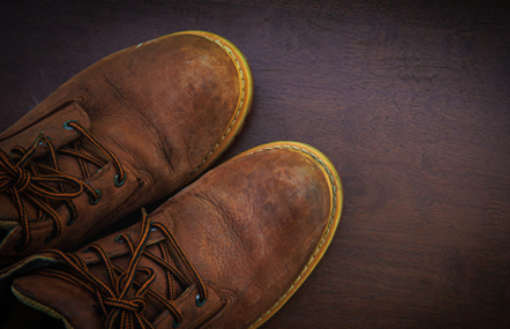 How to clean beige suede shoes
Lighter coloured suede has the same problems with becoming discoloured or dirty, but with the additional issue of picking up stains that are more noticeable and harder to ignore. To remove stains from beige suede shoes or similarly light colours, there are a few methods that should have a positive impact on different types of stains:
Surface stains -
If there's clear discolouration on your suede shoes, cornflour can be an effective remedy. Simply scatter a generous amount over the stain, leave it to absorb for a few minutes and gently brush off.
Grease -
Finding a grease mark on your clothing can be frustrating as they're often difficult to get rid of. Vegetable glycerine, when used sparingly, can counteract the appearance of grease, softening it to make it easier to remove.
Stubborn stains -
As a last resort, white vinegar is regarded as the perfect treatment for removing those stains that refuse to budge. To avoid ruining the material, it's best to test it on a hidden area first, and as the smell is quite pungent, you shouldn't use it in high doses. However, many people rely on it for stain removal.
How to clean suede shoes without a brush
If you don't feel comfortable using a brush for cleaning your suede shoes, there are other items that can have an equally effective impact. For example, a simple pencil eraser has been known to work wonders on suede. When a stain on your shoes appears to have completely dried, it can feel like it's too late to remove it, but by using an eraser, you can get rid of any small pieces of dirt and other unwanted elements. Just make sure you use a white eraser, as a pink eraser could discolour your shoe.
Alternatively, you could use a nail file or emery board to carefully chip away at a dried stain. If this is unsuccessful, try steaming the suede using a kettle or iron, as it should open the pores up, making it easier to clean the material.