We have noticed you are using an older version internet browser. To gain the best experience from our site we recommend upgrading your internet browser.
How to measure for accessories.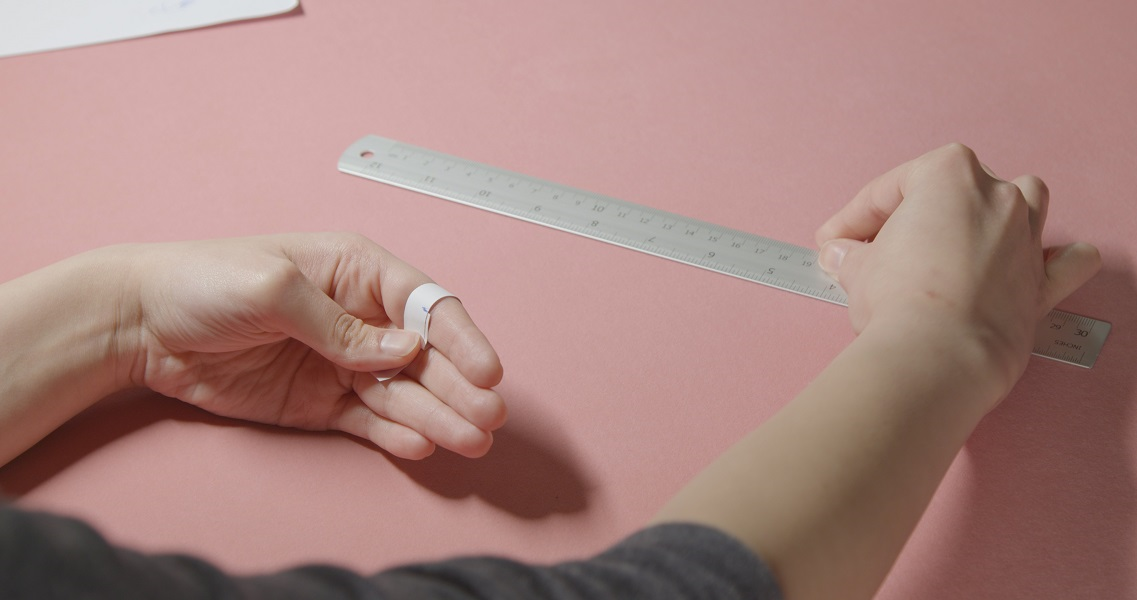 Many fashion accessories come in just one size, but there are other items where size really does matter. Prime examples are jewellery and hats, where it's crucial to get the right fit.
A poorly fitting hat can slip down or blow off in the wind or end up pinching you uncomfortably. And for jewellery such as rings and bracelets, selecting an item that's too small could mean you can't wear it at all, while if it's too loose, there's the risk it could fall off and be lost as you go about your day.
Want to know how to measure correctly for accessories? Read on, as we've put together a helpful guide covering everything you need to know.
How to measure ring size at home.
Let's start with ring size, and how to take this measurement at home. It's crucial to get this right, especially for engagement and wedding rings, as well as for valuable (and sentimentally precious) pieces.
You can of course visit a jeweller to have your ring size taken. But there's also a way you can find out your ring size in the comfort of your own home.
Here's what you need to do:
Get a piece of string or paper (no wider than 1.4cm)
Wrap it around the finger you'd like to wear the ring on
Mark where the end of the paper or string meets the other
Straighten out the string and line it up against a ruler
This is your ring measurement

There is another method you can use to find your ring size. This is to print out a ring size chart, available online from some jewellery websites. This will feature all UK ring sizes in a series of circles. You can simply take a ring you already own that fits you well and find a circle that matches the size. Then, you'll know your ring size.
It can also help to know a little about ring sizes before you start. In the UK, they range from A to Z. The smallest is 37.8mm in circumference, with the largest 68.5mm.
How to measure neck size for jewellery.
Thinking of buying a new necklace? If you have a particular piece in mind, it can be useful to know your neck size. This will help you to get the correct drop for pendants, and a comfortable, flattering fit for other necklaces.
To find your neck size for a collar or choker-style necklace, you simply need a soft measuring tape and perhaps a friend to help you. Wrap the tape closely but not tightly around your neck, ensuring it lies flat against your skin. Note down the size and add two inches to allow for a comfortable fit. This is your neck size.
Different necklace styles come in different lengths, which is handy to know when jewellery shopping. Here are a few of the most popular styles for women:
Collar – 12 to 14 inches
Choker – 14 to 16 inches
Pendants – 17 to 18 inches
Matinee (sitting just above a standard neckline) – 20 inches
Opera (a long necklace sitting below the bust) – 28 to 34 inches

How to measure wrist size.
If you're buying a watch or bracelet for yourself or for someone else, you'll need to know how to measure wrist size.
The good news is that this measurement is really easy to take. You simply need to wrap a soft tape measure around the circumference of your wrist, so that it fits comfortably, and note down the measurement.
Some retailers also provide a wrist size chart you can print off. This may feature a sizer tool, which you'll cut out and place around your wrist just like a paper watch. Using the notches on the sizer tool, you can find the right size to fit your wrist comfortably.
Lastly, we come to one of the most important measurements for accessories. Getting an accurate hat size is essential for ensuring a comfortable fit that won't move around or slip during the day.
As hats are often bought for formal occasions like weddings or race days, it's worth spending some time measuring to get the right size.
Here's how to measure hat size. The steps are the same for both men and women:
Place a soft tape measure around your head, just above the eyebrows
Make sure the tape lies flat against your skin, and is straight (parallel to the floor)
The tape should be taut, but not tight
Take the measurement to the next whole centimetre.
And that's it, although you might need different measurements for certain kinds of hat. It may also be a good idea to get another person to help you take your measurements, to make sure they're accurate.
Copyright © 2023 Chums
PayPal Representative Example:

Representative 23.9% APR (variable) Purchase interest rate 23.9% p.a. (variable) Assumed Credit limit £1,200

Finance provided by PayPal Credit. Credit subject to status. Terms and conditions apply. UK residents only.

CHUMS, Unity Grove, Knowsley Business Park, Liverpool, L34 9AR, acts as a broker and offers finance from PayPal Credit. PayPal Credit and PayPal Pay in 3 are trading names of PayPal UK Ltd, Whittaker House, Whittaker Avenue, Richmond-Upon-Thames, Surrey, United Kingdom, TW9 1EH.