Sorry, your browser is out of date and some features may not work. Please use a more up-to-date browser to use all of the features of chums.co.uk
How to use a lumbar support pillow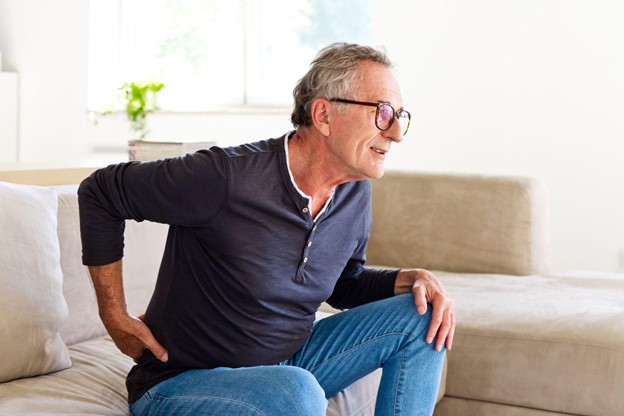 There's no denying that lower back pain can be uncomfortable and unpleasant. In fact, dealing with aches and pain in your lumbar region can be extremely debilitating, and you may find that you experience soreness in this area not just when you are sitting down, but when you're standing up too.
Fortunately, there are ways you can help relieve lower back pain - such as by using a specially designed lumbar support cushion or pillow. These handy accessories can help ease your back pain while you're sitting down, which in turn, can improve your posture and relieve soreness so you can live your life to the fullest.
But how exactly does a lumbar support pillow work? In this article, we tell you exactly how and where to use one of these cushions. We also provide tips on where you should position lumbar support aids in order to look after your back health and maintain good posture.
How do lumbar support pillows work?
Designed to be placed on a chair, a typical lumbar support pillow has a special contoured design which works to hold your spine in a natural, comfortable position while you are sitting down. A lumbar support pillow can help maintain, improve and even correct your posture. It can help relieve pressure from your spine too, which is especially beneficial if you find that you sit down for long periods of time. The lumbar support pillow you use should be firm and supportive, but not so firm that it puts pressure on your back.
Lumbar support pillows can vary in terms of size and style, but they will often have a slightly arched shape. It is common for them to have high sides and back sections too. These pillows are also often available in a range of different colours and fabric types, including super soft teddy fleece material and even breathable mesh designs.

In most cases, you should find that your lumbar support pillow has a removable cover that can be machine washed, enabling you to keep it clean and hygienic.
How to use a lumbar support cushion
To make sure that you're getting the most out of your lumbar support cushion, it's important that you're using it correctly. Firstly, you should ensure that the pillow sits vertically in the chair, and it should be flush against the back section. The pillow may simply sit in place of its own accord, or you may have a design which has straps that can be used to secure it to the chair itself.
When you're sitting in the chair, you should be able to feel the cushion on your lower back. If it's positioned correctly, you should also find that your ears, shoulders and hips are aligned. This will mean that the natural curvature of your spine is maintained while you sit.
You may be tempted to position the pillow in such a way so that it sits up against a particular area of your back where you might be feeling soreness or pain. However, in order for the cushion to work properly, it should always be positioned so that it fully supports your spine and ensures correct posture.
Where to put a lumbar support pillow
The good news is, you can pretty much use a lumbar support pillow in any chair you like. For example, you may prefer to place yours on your sofa or in your armchair so that you can watch TV or read a book in complete comfort. You could even use your lumbar support pillow in the car. Using one of these cushions as you travel from A to B could prevent your back from becoming stiff and sore on both short and long journeys.
Whether you spend short periods of time at a computer browsing the web or you sit down for a number of hours a day to work from a laptop, being hunched over a desk can often be to blame for lower back pain. Using a lumbar support cushion while you sit at your desk could help to seriously reduce your chances of getting a sore back.
Where should lumbar support be on your back?
As we have previously mentioned, in order to gain lumbar support from your pillow or cushion, it needs to be positioned so that it is flush against the back of the chair and against the small of your back. The curvature of the pillow should fit snugly into your lower back, providing support to the arch at the lower portion of your spine.