We have noticed you are using an older version internet browser. To gain the best experience from our site we recommend upgrading your internet browser.
A Chums competition: Rewards for Community Heroes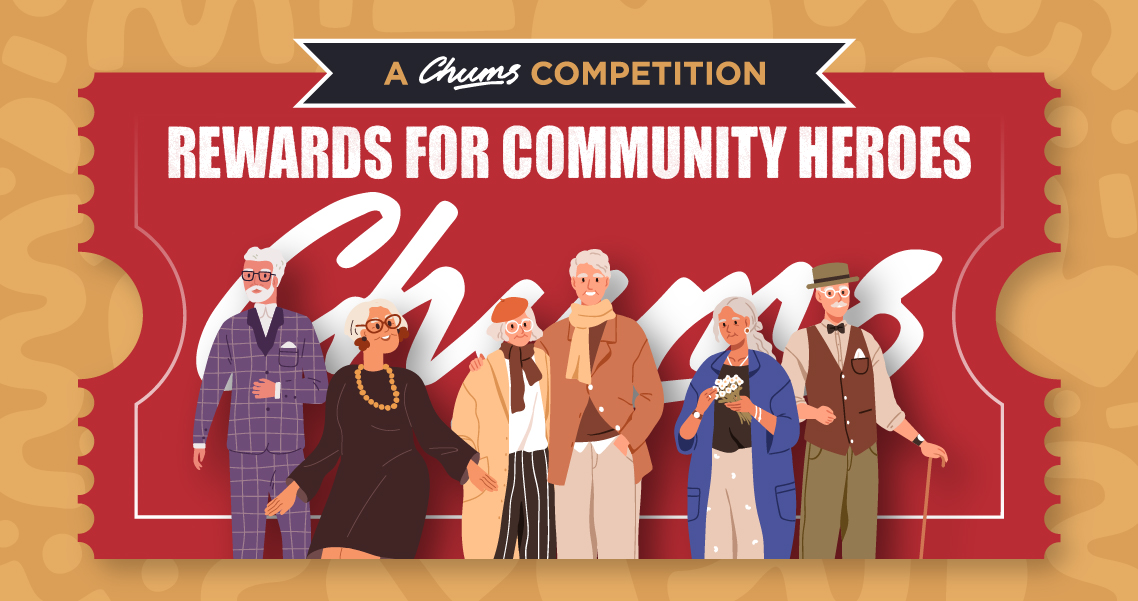 Here at Chums, we believe the older generation deserves to be celebrated.
After all, they're the matriarchs and patriarchs of our families, the war heroes, the hard-working homemakers and the free-thinking activists that paved the way for a better Britain. They're the generation that brought us Beatlemania, the World Wide Web and the NHS. They're the doting grandparents, the hospital knitters, the men's shed leaders, the litter pickers. They're the next-door neighbours and the strangers in the street, always ready to share a smile or a laugh. They're all of this and so much more.
We want to take the time to say a big thank you to the seniors of our communities who are generous with their time, their wisdom and their wit, and to shine a special light on three community heroes who inspire younger generations to be the best they can.
We're inviting people across the UK to nominate a senior in their life who deserves to be rewarded for all they've done. They might be an older person who has gone above and beyond in their local community, an armed forces or military veteran, or an outstanding senior who has done incredible things for their family.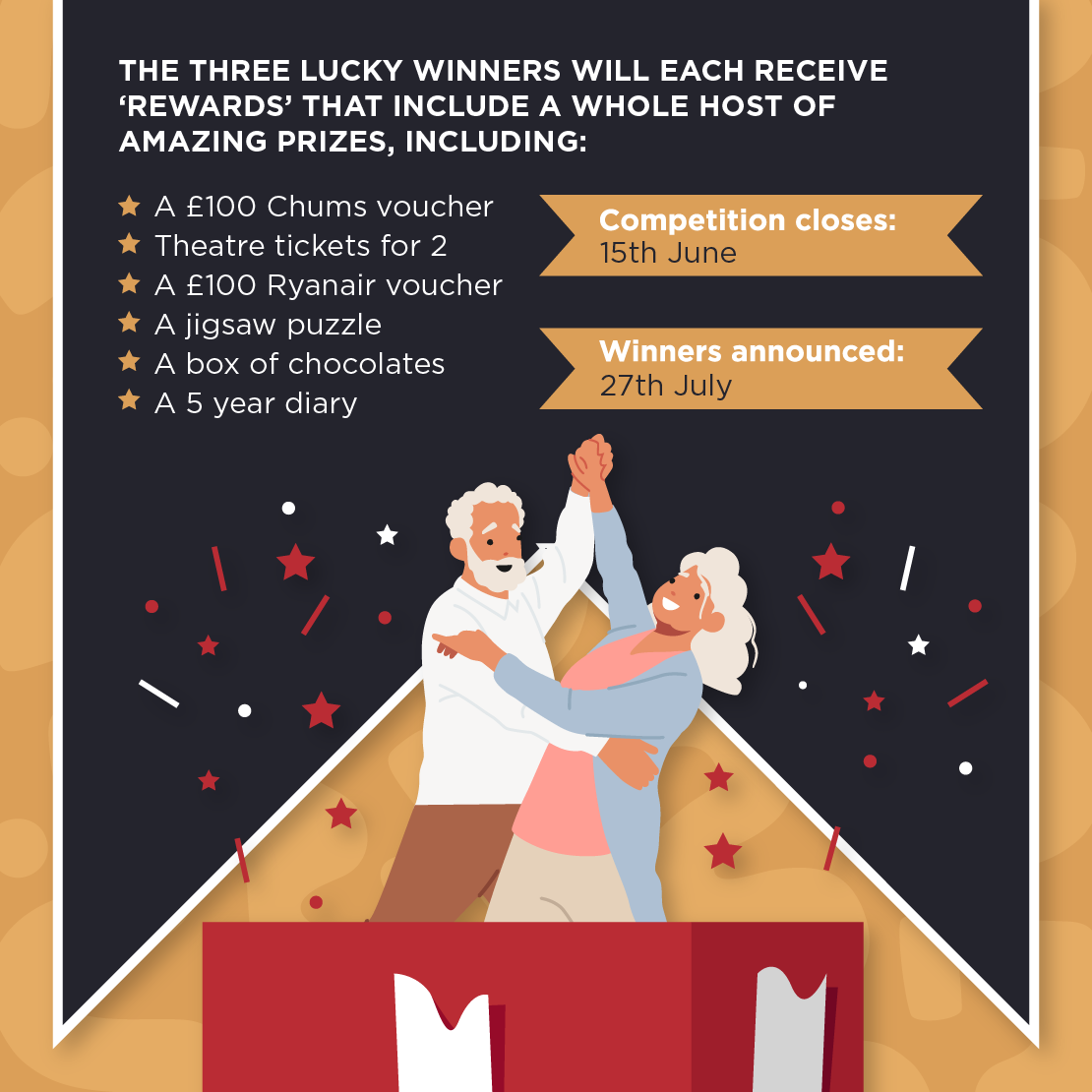 The three lucky winners will each receive a "Reward Package" that features a whole host of amazing prizes, including:
A £100 Chums voucher
Theatre tickets for two
A £100 Ryanair voucher
A jigsaw puzzle
A box of chocolates

A five year diary

To be in with a chance of winning this amazing care package for your loved one, simply fill out this form, telling us why you think your nominee deserves to win (in no less than 300 words).
Please include as much information as possible to give your special someone the best chance of scooping this fantastic prize. To complement your entry, please include a photo of your nominee.
Please note that this competition will run for two weeks, starting on 1st June 2023 and ending on 15th June 2023.
The three lucky winners will be announced on Chums' website, as well as on our Facebook and Instagram pages, on 27th July 2023.
Spread the word about our competition and celebrate the special seniors in your life using the hashtag #ChooseYourCommunityHero.
The prize is not transferable. The competition is not open to any employees of Chums or their direct family members, including father, mother, grandparent, sibling or partner. Only one entry can be submitted per person, but we do allow for multiple submissions for the same nominee You can enter the competition via Facebook, Instagram and this submission form. The winners will be selected at random from all eligible entries on these platforms. Chums reserve the right to offer a flight voucher with any airline of our choosing to the same value. All vouchers must be claimed within 12 months from issue.
No cash alternative is available. Judges' decisions will be final and no correspondence will be entered into. Chums reserve the right to use any and all images, and submissions for the purpose of public promotion on our website and other news outlets and social media.
Entries close at midnight on 14/06/2023.
Copyright © 2023 Chums
PayPal Representative Example:

Representative 23.9% APR (variable) Purchase interest rate 23.9% p.a. (variable) Assumed Credit limit £1,200

Finance provided by PayPal Credit. Credit subject to status. Terms and conditions apply. UK residents only.

CHUMS, Unity Grove, Knowsley Business Park, Liverpool, L34 9AR, acts as a broker and offers finance from PayPal Credit. PayPal Credit and PayPal Pay in 3 are trading names of PayPal UK Ltd, Whittaker House, Whittaker Avenue, Richmond-Upon-Thames, Surrey, United Kingdom, TW9 1EH.