We have noticed you are using an older version internet browser. To gain the best experience from our site we recommend upgrading your internet browser.
What to wear on Bonfire Night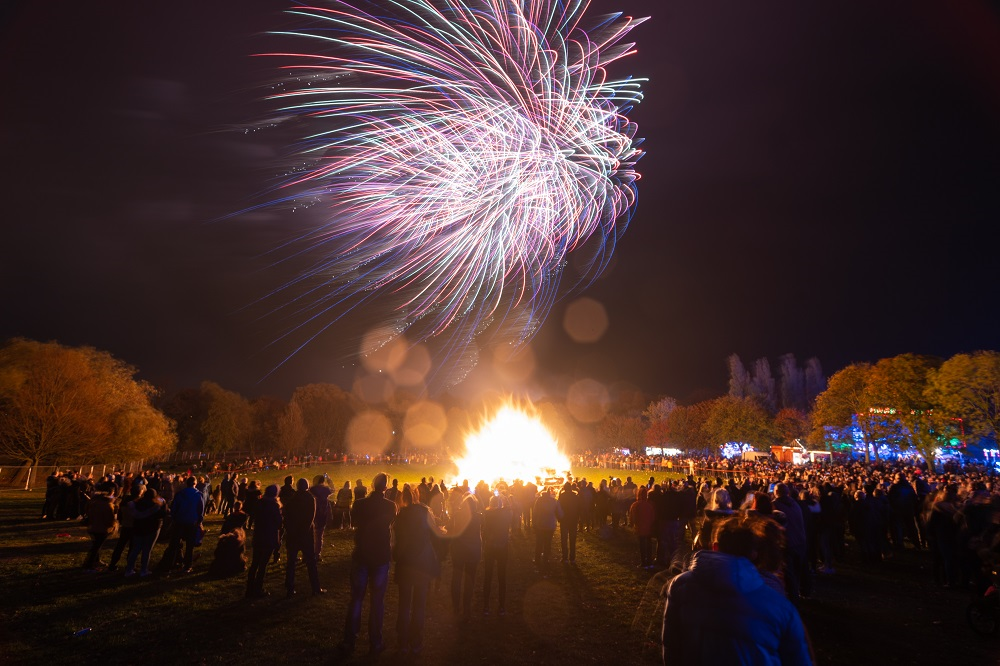 Bonfire Night is a staple of the autumn calendar, with fireworks, hot food and entertainment for all. However, it's important not to overlook the logistical considerations of spending your evening outdoors at this time of year – staying safe and well is the first step to having a good time.
Best clothes to wear on Bonfire Night
Depending on the arrangements for the event you're going to, you could be outdoors for anything from an hour to the whole evening. Many people assume that the bonfire and hot food and drinks will be enough to keep them warm, but this often isn't the case. Getting cold can ruin an evening – it's hard to appreciate the fireworks if you're shivering and wishing you were in bed.
But the temperature isn't the only thing you should be thinking about when deciding what to wear to a Bonfire Night celebration. In an ideal world, Bonfire Night would be dry, but unfortunately the weather isn't always cooperative. If it does rain, you'll want to stay dry so you don't get too cold.
Additionally, staying safe extends beyond the boundaries of your Bonfire Night event. Dark autumn nights can make it difficult to see pedestrians and cyclists, so dressing sensibly can help to prevent an accident. Dressing appropriately also makes it easier to stay visible when people are focusing most of their attention on handling pyrotechnics like sparklers.
Clothes to keep you warm
Knowing how warm to dress in autumn can be difficult. Sometimes you just need a jacket, and other times you need to pile on the layers. When dressing for Bonfire Night, it's important to remember that you can always take layers off if you need to once you get to the event – but hurrying home to grab another jumper will be more difficult.
Don't forget to bring your woolly hat, scarf and gloves as well. Much of our heat is lost through our heads and hands – which are often uncovered by the rest of our clothing – so insulate these areas well. Also, try to tuck as much of your clothing in as possible. This helps to trap heat near to your body and keep you snug without cold air drifting in.
Clothes to keep you dry
In the autumn, staying dry can sometimes be a challenge. Wearing a thick, waterproof coat should help to keep the worst of the rain off you, as well as providing an extra layer of insulation to keep you cosy. If the rain has set in, consider putting your hat, scarf and gloves on underneath your coat, as this will help to keep them as dry as possible. Pulling your hood up over your scarf and hat can also help to keep the chills off the back of your neck.
If you have them, waterproof trousers can be another good option to stop the wetness soaking through to your skin. If you don't have any, consider wearing tights or leggings – or both – under your top layer to put an extra layer between you and the damp.
Clothes to keep you visible
Maintaining your visibility on dark nights can be difficult, especially if you have to worry about unlit areas. Even if your route home is fully covered by streetlights, there is still a chance you might not be visible if all of your clothes are dark. One way to stay visible is to wear reflective clothing such as a high-vis jacket or snap-on reflective wristbands. However, luminous yellow isn't everyone's cup of tea, so what are your other options?
Well, in order to stay visible, you want as much light bouncing off you as possible, which means dressing in light colours. This doesn't mean your whole outfit has to be pastel, though. In fact, the simplest way to ensure your visibility is to wear a white waterproof coat - it'll keep you warm, it'll keep you dry and it'll keep you visible. Other light colours can work too, but bear in mind that the further you stray from white, the less visible you'll be.
What shoes to wear on Bonfire Night
Bonfire Night events often don't have much in the way of seating, so the shoes you wear are critically important. Particularly if you're going to be walking home, you'll want a comfortable fit that's designed to stand up to several hours of continuous wear. It's also a good idea to pick a shoe that has a good grip to help avoid slips and trips. You might also want to consider shoes you don't mind getting muddy – especially if it has been raining in the lead up to the event.
Keeping your feet warm and dry is crucial. Wearing thick, insulating socks can help to improve the comfort of your shoes by cushioning your feet throughout the evening, and they'll also help to retain heat. If it's raining, choosing waterproof shoes like wellies or boots can be a great way to stop the damp getting to your toes.
Copyright © 2023 Chums
PayPal Representative Example:

Representative 23.9% APR (variable) Purchase interest rate 23.9% p.a. (variable) Assumed Credit limit £1,200

Finance provided by PayPal Credit. Credit subject to status. Terms and conditions apply. UK residents only.

CHUMS, Unity Grove, Knowsley Business Park, Liverpool, L34 9AR, acts as a broker and offers finance from PayPal Credit. PayPal Credit and PayPal Pay in 3 are trading names of PayPal UK Ltd, Whittaker House, Whittaker Avenue, Richmond-Upon-Thames, Surrey, United Kingdom, TW9 1EH.