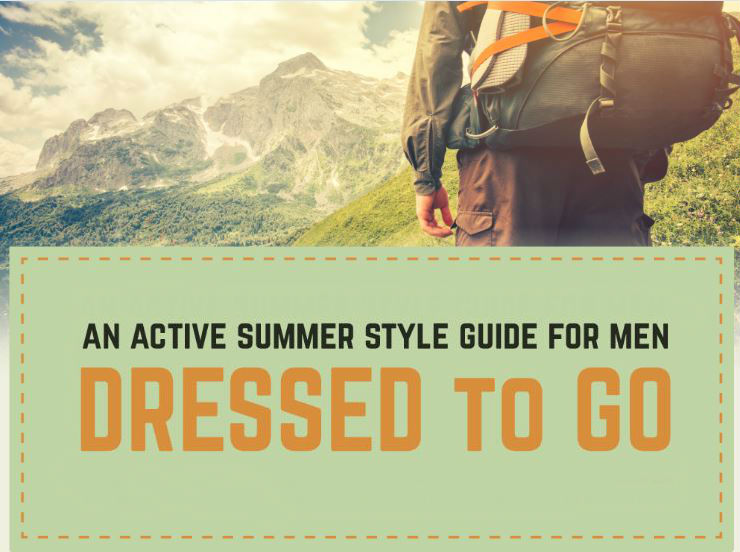 Getting some well-needed fresh air and exercise during the summer months is great for both our physical and mental health. In fact, a government survey revealed that over half of the population make at least one or more leisure visits to the outdoors each week. But in order to enjoy the most of your outdoor activities, you need to be comfortable, prepared and dressed to go…


The UK is home to 15 official sublime national parks and numerous untouched nature reserves just waiting for you to experience them this summer. From distilled reflective lakes to the grounding peaks of Snowdonia, inexpensive summer walks are guaranteed to leave you feeling richer in mind, body and soul.
Cargo shorts
Emphasizing comfort, elasticated waist cargo shorts are both lightweight and utilitarian. Perfect for that midday summer heat, these cooling shorts are easy to travel with and machine washable for any unexpected mucky paw prints.
Breathable layers
If you're heading out for a long day of walking, be prepared to sweat it out. Wearing a breathable fabric means your body moisture can be released, avoiding an uncomfortable damp t-shirt.
Reusable water bottle
Instead of opting for a heavy aluminum or tin bottle, hands-free, plastic water pouches are the perfect method of fuss-free hydration out and about.
Waterproof walking boots
The most crucial part of any walking outfit, a hard-wearing but comfortable boot, will ensure your trip isn't cut short by aching feet. A breathable and waterproof shoe will battle the unreliable British elements.


According to a survey last year, avid UK golfers spend around £4 billion on their sport. Whether you're a seasoned pro, or a part time beginner, with around 3,000 golf courses here in Britain, there are plenty of courses to try your hand at this summer.
The iconic tank top/sweater vest
Marrying tailored fashion with sporting etiquette, the iconic golfing tank-top need not be an expensive or bold purchase. A simple cotton navy or grey sweater vest will team well with a smart trouser for a suave sporting look.
Elasticated chinos
Having a full range of movement is essential if you want to be on your A game. Restricting trousers will drive you insane and putt you at a distinct disadvantage. Consider taking a spare pair in case you get a hole in one..


According to Sporting England, just under half of UK respondents participated in their main outdoor activity with their parents/guardians/family. Fishing is a great way to spend quality outdoor time with friends or family in a serene backdrop. However, as it's a waiting game, you'll need to make comfort a priority, and prepare for a change in the climate.
Gilet
A waterproof but warm gilet is staple fishing attire. Choosing one with multiple pockets to keep all your hooks and bait handy is favourable, but comfort and flexibility should be a key priority. Machine washable, lightweight cottons are highly recommended
Fishing hat
A hat will deduct glare, allowing you to spot fish more easily under the water whilst protecting you from the sun. Full-brimmed bucket style hats offer wider protection to baseball-style caps.
Fleece lined trousers
Despite the summer weather, spending long hours fishing means temperatures will drop dramatically leaving you to feel the chill. It's a great idea to pack a pair of warm fleece-lined trousers to cover all bases.
Sources
http://www.randa.org/News/2016/03/UK-golfers-spend-4-billion-a-year-on-their-sport-and-the-golf-industry-pays-1-billion-in-tax
https://www.sportengland.org/media/3275/outdoors-participation-report-v2-lr-spreads.pdf
https://www.gov.uk/government/news/survey-shows-more-people-are-heading-for-the-outdoors-in-england