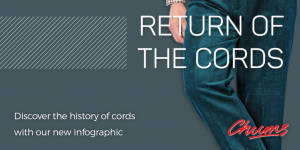 Fashion is one big circle. Trends come into fashion, then go out of fashion, only to come back in twenty years later. Corduroy trousers have finally become popular again after almost two decades of being considered ugly and unstylish. Here we look at the corduroy trousers in more detail from their inception, to today.
#CorduroyComeback
The early years
Previously known as 'Fustian', the manufactured textile was originally produced in Fustat, Egypt circa 200 AD. In the 12th Century, Fustian became increasingly popular, and with the growth of the cotton trade, distribution throughout Europe began.
Imitations of fustian textiles were common, and by the end of 16th Century, fustians were being manufactured in London, Lancashire and Ireland.
Fast Forward to the 18th Century and the fabric was being manufactured as a practical, outdoor fabric thanks to its durability and warmth. A more expensive, longer brushed pile known as Naples Fustian was worn by the elite. Servants livery was also commonly manufactured from a cheaper version of the material.
By the end of the 18th Century, fustian became known as 'cotton velvet' or 'corduroy' as we now know it.
Why is it called corduroy?
The word 'corduroy' derives from the French 'corde du roi', meaning cloth of the king.
In the 17th Century, French royal servants wore a durable fustian-style fabric. The word corduroy was coined around the late 18th Century
Did you know? The Oxford English Dictiofnary cites 1774 as the earliest date of use of the word 'corduroy'.
The 20th Century
Corduroy became a popular fabric for school uniforms in the early 1900s. It's also popular for sporting and military wear—used for soldiers' trousers in WWI throughout Europe.
Did you know? In 1918, Henry Ford chose a hard wearing corduroy for the interior of his Ford Model T.
Through the 1920s and 30s corduroy continues to be popular, not only for sporting and military wear, but also for suits, caps and jackets. The versatility of the fabric lent itself to the fashion of that time—workwear and active.
By the 1950s, cords had gone out of fashion several times. It was often mocked as old-fashioned and out of date, worn by pipe smoking college professors. Each time it went out of fashion, it returned with a refreshed look.
In 1982, popular fashion designer Gianni Versace introduced a whole line of corduroy clothing.