Sorry, your browser is out of date and some features may not work. Please use a more up-to-date browser to use all of the features of chums.co.uk
How to choose the right jeans for your body shape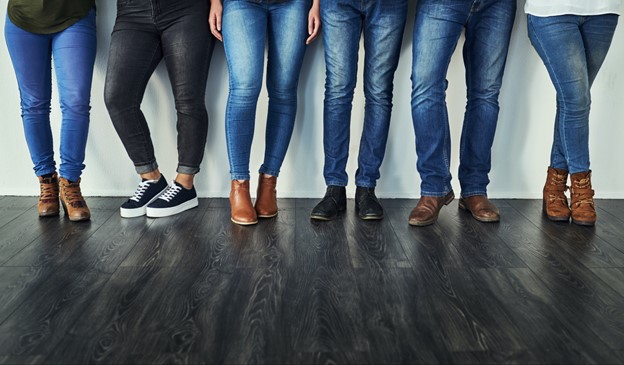 There's no denying how important it is to feel comfortable and confident in the clothes you wear. However, it can sometimes be difficult to find items for your wardrobe that you love - and it often comes down to the fact that you're not clued up on how you should be dressing for your individual body type. This is especially true when it comes to choosing the right pair of jeans, with many women struggling to find denim that suits their body type.
In this blog, we take a look at different women's body shapes, providing helpful tips and advice on which style of jeans look best on these figures. From the classic hourglass to apple shaped ladies, our guide is here to help you finally find your dream denim.
Best jeans for an hourglass figure
A classic hourglass figure usually means you're curvy with a fuller bust, small waist and round hips. This body shape often indicates you're in proportion, with your hips and shoulders being about the same width apart. Ideally, the right pair of jeans should highlight and enhance your curved silhouette.
Women with hourglass bodies usually suit jeans with a wider leg and a subtle flare, while skinny fit jeans are a good choice if you really want to show off your curves. Low-rise, straight legged style jeans with a bootcut are also a good choice, especially when paired with a deep V-neck t-shirt or blouse for a simple yet stylish look. For a super flattering appearance, go for dark wash denim in black or deep blue.
Best jeans for an inverted triangle body shape
An inverted triangle body shape usually means a woman has a narrow waist and hips with broader shoulders. Many ladies with this body shape have shapely legs, as well as an overall athletic appearance. As its name suggests, some think that this body type resembles an upside down triangle shape or V shape.
If you have an inverted triangle shaped body and you're looking for the best jeans for your figure, it's all about adding volume and curves to your lower half. With this in mind, cropped, wide-leg style jeans could be a good fit, as the fuller leg line will help balance out your shape. Meanwhile, jeans with a more relaxed fit can help give the illusion of curves around the thighs and hips, whereas flared jeans balance out the shoulders.
Best jean type for a rectangle body
The rectangle body shape is often characterised by equal hip, waist and bust measurements, with the midsection resembling a rectangular or column shape. Women with this figure tend to be tall and lean with straight shoulders.
Finding jeans for a rectangle body shape is easy if you know what style of denim to go for. Jeans with a bootcut are ideal as they can help add volume and curves to your lower half while also softening the squarish shape of your frame. Skinny or slim fit jeans can accentuate slender legs, but make sure they fit snugly around the hips to give the illusion of a curvier silhouette.
Best jeans for a pear shaped body
If you're pear shaped, you're likely to have a slim waist and curvy hips, and you may also find that your torso is smaller when compared to your hips and lower body. Since your waist is so defined, it's all about highlighting and drawing attention to this area - and it all starts with picking the perfect pair of jeans.
When it comes to choosing denim, look out for jeans that sit on or just below your waist. Jeans with tapered legs or bootcut style jeans can help lengthen the legs. You may also find that jeans in a dark wash can also give the illusion of longer legs, especially when worn with a pair of heels and a structured, fitted blazer to help create balance and add length to the body.
Best shape jeans for an apple body
For ladies who are apple shaped, they may have slim legs, and their upper body may be in proportion with their lower half, but their midsection is relatively short in length. As a result, apple shaped bodies may be more suited to jeans that define the waist, creating an illusion of a more elongated body.
If you consider yourself to have an apple shaped body, jeans with a mid-rise waistband could be your best bet. This style of jean can help give the impression of a longer midsection and make the legs look longer. To enhance this illusion further, you could also wear a top that you can tuck in, giving you an enviable nipped-in waist. Alternatively, long flowing tunics and blouses that beautifully skim over the body can also help create a slender appearance.