We have noticed you are using an older version internet browser. To gain the best experience from our site we recommend upgrading your internet browser.
How to choose winter boots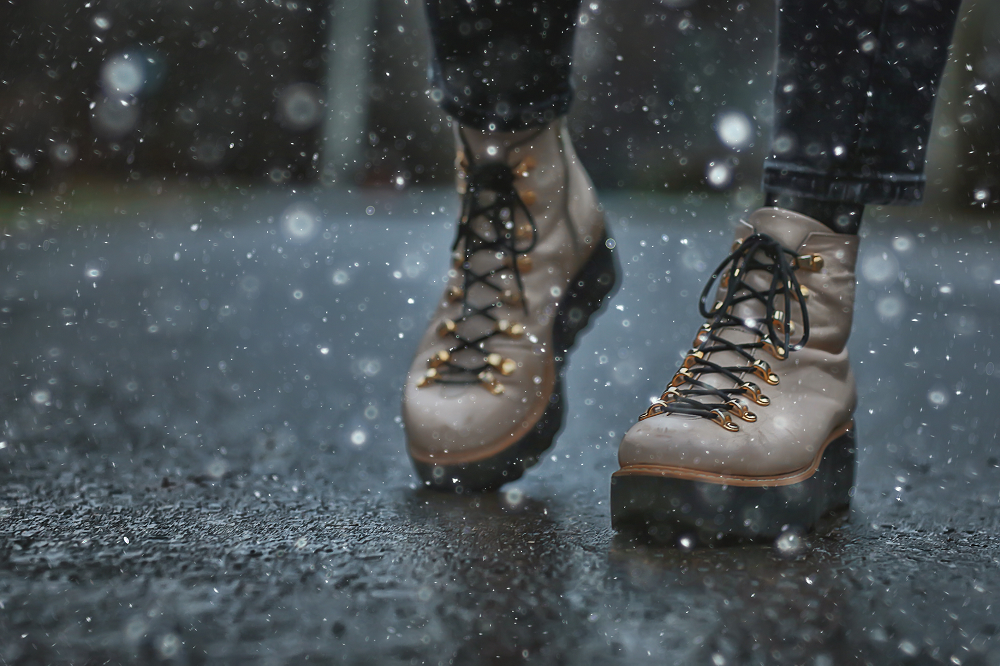 Reliable winter boots should be a staple of everybody's wardrobe. With the unpredictability of the Great British winter, having footwear that can withstand everything from torrential rain to icy snow showers is essential. However, with so many styles, materials, and sizes to choose from, selecting the best pair for you is not always easy.
In this blog, we'll explain everything you need to know when it comes to choosing the right pair of winter boots. We look at what characteristics make good cold-weather footwear, as well as running through the five key things you need to consider before making your choice.
What is a good winter boot?
Good winter boots are simply those that are able to meet the demands you will put on them. This is to say, before selecting your winter footwear, it is important to think about what you will be using them for. If, for example, you enjoy outdoor activity and the boots will have to withstand the wear and tear that comes with winter hiking, sturdy walking boots may be the only option. On the other hand, if you are simply looking for casual winter footwear, capable of keeping your feet warm and preventing slips and trips, fashionable leather Chelsea boots may fit the bill.
In this sense, 'a good winter boot' is simply one that best fits your lifestyle. That being said, no matter what demands you place on your footwear, there are a number of things you should always consider before making a purchase.
What to look for when buying winter boots?
Warmth – Did you know most bodily heat loss occurs in the head, hands and feet? Along with a warm winter hat and gloves, this is why wearing a good pair of winter boots in the colder months is so important. To ensure you choose a pair best suited to keeping your feet warm, it's a good idea to assess what materials the shoes are made from. The best winter boots will typically be made from leather or water-resistant materials like Gore-Tex.


Waterproofing – Aside from keeping your feet warm, good quality winter boots should also keep them dry. Not all boots on the market will be waterproof. For example, while Ugg-style boots are great at keeping your feet warm, they will struggle to keep your feet dry when worn outdoors on rainy days. For this reason, if you are looking for an all-weather winter boot, opt a pair that have been treated. This can include leather boots treated with a specialist spray or footwear made from synthetic materials designed to be weather-resistant.


Grip – During the colder months, slips, trips and falls become far more common. Naturally, this is due to slippery paths and roads impacted by rain and ice. A good pair of winter boots can help you avoid falls through good grip. This means it's a good idea to always opt for a pair with soles made up of small rubber bumps and crevices. Like a car's tyres, these soles will create more traction between you and the floor and prevent you from slipping.


Fastening – Winter boots come with a range of different fastenings. While ankle-high laces are favoured by those into long-distance walking, for example, zips, touch-fastenings and elasticated slip-ons are more popular for fashion boots. Therefore it's important to think about what you will be most using these boots for before deciding which type of fastening will best suit your needs.


Comfort – A pair of boots could be completely weather-resistant, but the fact is, if they are not comfortable, you won't want to wear them. For this reason, it's important to think about comfort. The first thing to consider is how boots are supposed to fit. A good pair should be large enough to allow your toes to wiggle while also being fitted enough to provide your ankles with support as you walk.
Should winter boots be a size bigger?
Put simply, no. Although winter boots are occasionally designed slightly larger to accommodate thick woollen socks, as a rule, you should always purchase your usual size when buying winter boots. A properly sized winter boot should provide a snug and supportive fit that also allows for a thick sock to be worn underneath.
If you have any doubts about sizing, always consult a brand's sizing guide before making a final purchase.
Copyright © 2023 Chums
PayPal Representative Example:

Representative 23.9% APR (variable) Purchase interest rate 23.9% p.a. (variable) Assumed Credit limit £1,200

Finance provided by PayPal Credit. Credit subject to status. Terms and conditions apply. UK residents only.

CHUMS, Unity Grove, Knowsley Business Park, Liverpool, L34 9AR, acts as a broker and offers finance from PayPal Credit. PayPal Credit and PayPal Pay in 3 are trading names of PayPal UK Ltd, Whittaker House, Whittaker Avenue, Richmond-Upon-Thames, Surrey, United Kingdom, TW9 1EH.