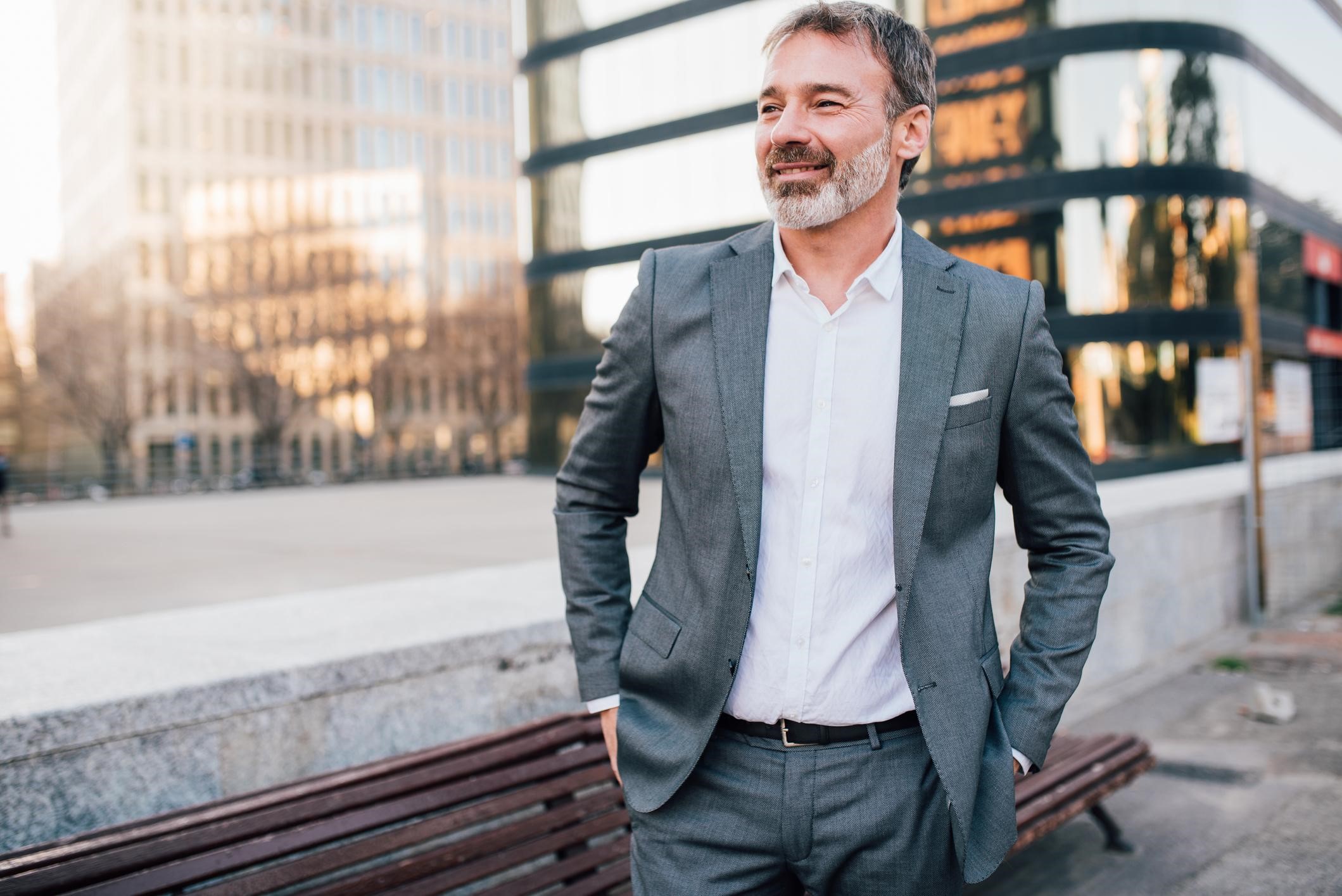 For most men, the shirt is an essential item of clothing and a wardrobe staple. From short-sleeved summer options to long sleeve versions that require cufflinks, there are many varieties available to choose from. While casual shirts that are shorter in length might look fine when untucked, certain styles – such as a smart button-collar oxford or formalwear shirt – can look untidy when they begin to loosen and spoil your appearance.
Whether you're an important guest at a wedding, enjoying an evening out or hosting an event where you need to look your best, the last thing you need is an unruly shirt escaping the top of your trousers to ruin your look. If this is an issue you've encountered before and wish to avoid in future, read on for all the answers you need on how to keep your shirt tucked safely away below your waistband.
Made to measure
Before you purchase new shirts, it's worth using a fabric measuring tape to take some accurate measurements, especially if it's been a while since you re-stocked your wardrobe. Use a mirror or get a family member or friend to help to get an accurate assessment of your size.
Making sure your shirt is the best possible size for you is the first step in getting it to stay in place. While a lack of extra material can cause shirts to be pulled free from trouser tops with a simple arm raise, an excess can be equally problematic. The extra material can begin to billow or be easily crumpled as you sit, stand and move around.
How to tuck in a shirt
If you possess a shirt that doesn't quite fit, you might want to try the military tuck. Designed specifically to keep you looking sharp no matter how much excess material your shirt has, you can follow these simple steps to try it out for yourself.
First, open the waistband of your trousers and tuck the hem of your shirt in, ensuring it's completely flat against your body at both sides and the back. Next, get a good grip on the side seams of your shirt and pinch the material until you can see the front of your shirt is entirely flat on both your stomach and chest. You can use a mirror to be sure the fabric is taut but not pulling. Fold the excess material back, pushing the fabric at the back forwards using your thumb to make a tuck. While holding each folded flap firmly, fasten up your trousers to hold them tightly in place.
How to keep your shirt tucked in all day
While the military tuck might help you out for short-term tidiness in certain circumstances, this might not be enough to suit your needs. If you're spending an entire day smartly dressed, you'll need extra assistance on your side if you're going to stay looking sharp for the entire duration.
For long days, like all-day celebrations and special events, you won't want to be constantly checking that your shirt hasn't escaped. When you need peace of mind to enjoy your day to the fullest, an innovative solution known as a shirt stay can be just the help you're after.
A set of shirt stays is a collection of elasticated straps designed to keep your shirt firmly in your trousers with no unwanted untucking and creasing. These ingenious items, often used with tuxedos, smart ties and other eveningwear, comprise of straps that stretch between your shirt hem and your sock tops. Two clips on each strap allow you to fasten your shirt hem at two points and then attach them tightly to your socks. Other models available to buy, known as "stirrup-style" shirt stays, involve a loop at the bottom end that your foot slides into. With the straps pulled taut, your shirt front will remain crisp and without creases throughout the day.
Are shirt stays comfortable?
While those who've never used a shirt stay before may find it an unusual sensation, just like any other type of clothing or accessory, the more you wear it, the more comfortable you'll feel. If you use them regularly, the chances are you'll forget you're wearing them at all.
While traditionally the materials used for shirt stays may have been more noticeable against the skin, in modern manufacturing, specially developed materials are designed to be more comfortable, and their ergonomic designs allow for a far more comfortable fitting.
From the military tuck to the ever dependable shirt stays, you can use these techniques and equipment to ensure you stay tucked and tidy when you need to most.