Trousers come in a variety of styles to suit different purposes. While casual cords and jeans are ideal for informal occasions, formal trousers are designed for special events when you want to look your sharpest.
To ensure the suit trousers you wear always look and feel exceptional, it's vital to get the best fit for your body type. From how to work out your waist measurement and leg length to understanding trouser breaks, you're about to discover everything you need to know to get the perfect fit when picking a pair of trousers.
How to measure your waist for trousers
While wearing trousers and a shirt, take a fabric measuring tape and wrap it around your waist at the height at which you would typically wear trousers. Adjust the measuring tape for a snug fit – for the sake of comfort, you should be able to slide an index finger under the tape.
Ask a friend or family member to read the measurement for convenience and ensure that the tape is not riding up past your trouser waistband when it's taken. If trousers bought are too large, they can be taken in by a tailor, but those that are too small can rarely be widened at the waist unless they've been fashioned with extra material inside.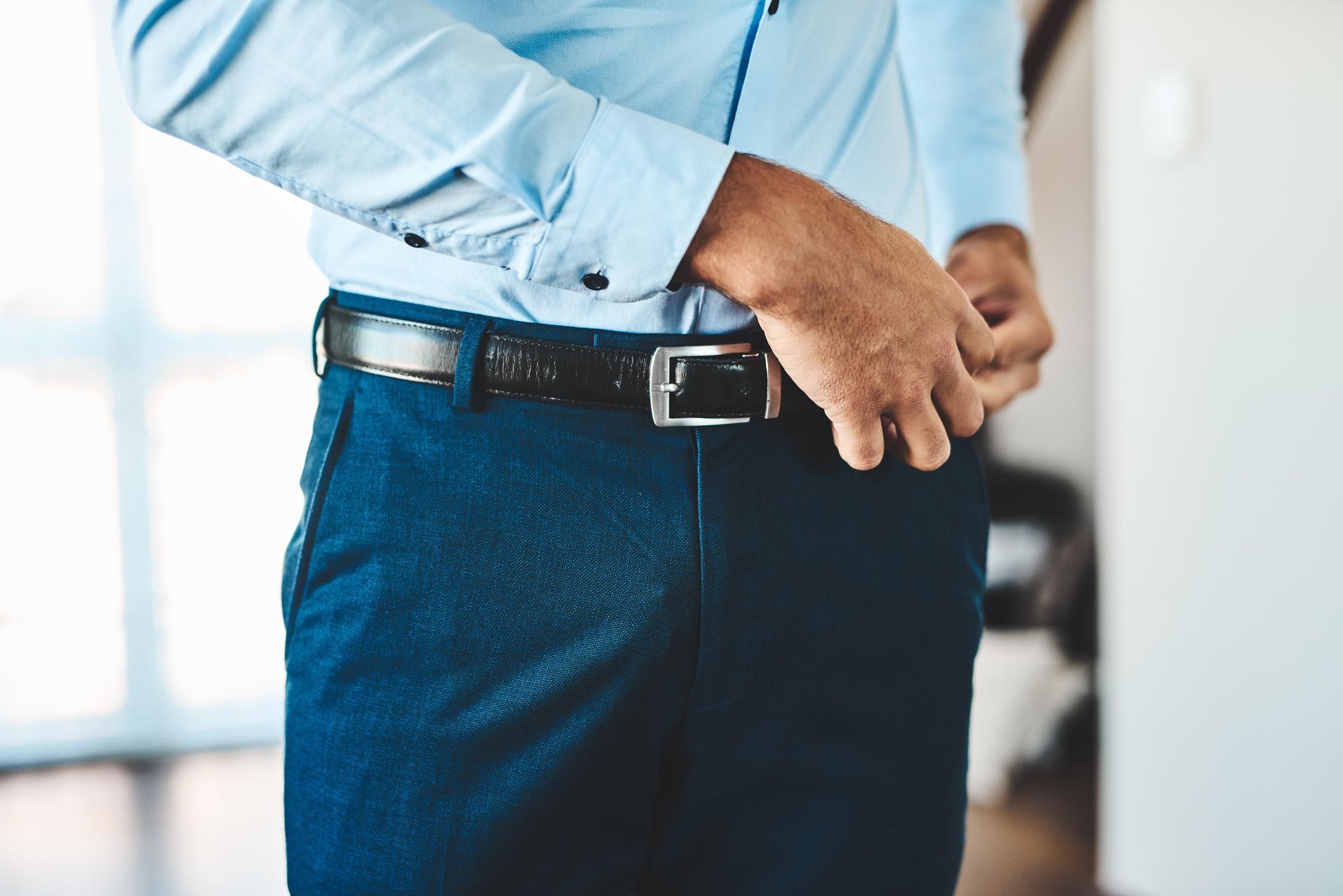 How to measure your leg length
There are two different measurements for leg length. These are inside leg and true leg length. It's best to have someone to help you when taking these measurements. To get your inside leg length, place one end of a measuring tape on the inside of your leg as close to the crotch area as possible. Then ask your helper to take a reading from the bottom end of the tape on or just below your ankle joint.
To measure your true leg length, lie on the floor with your legs straight and your feet hip width apart. Ask your helper to measure from directly under your hip bone to your ankle joint. Take this measurement for both legs, as it's common for there to be a slight discrepancy.
What is a trouser break?
A trouser break is the bend or fold just above the hemline of your trousers, naturally created by the material when it meets your shoe. This break or kink in trousers can vary greatly, from full breaks that create two folds and can make trousers look too long and untidy, to no break whatsoever, which can result in them showing off your socks and appearing too short.
The half break is a happy medium for many styles of trousers, offering a little fold but not enough to look like they're ill-fitting.
Can suit trousers be narrowed?
If you're a regular or slender build, trousers that narrow at the leg can offer a better fit. Providing enough fabric is available to work with, your trousers can be altered to taper from knee to ankle for a flattering fit.
How should men's trousers fit?
Finding the perfect fit for your trousers can keep you comfortable when you want to relax and make certain you always look smart, whether you're enjoying a dress-up dinner with friends or making a speech at an important event. Different styles of trousers demand different kinds of fitting.
When it comes to smart trousers and those that pair with your suit, there are a few basic pointers to bear in mind. These formal wear items should never hang below the waist but instead sit high above your hip bones and be measured perfectly to your form. You'll know you've got them positioned right if they naturally stay in place without a belt, although a belt can make a stylish addition and help ensure your trousers stay securely in position at all times. The fabric of your dress trousers should drape nicely, but not so much that it looks too baggy and untidy. A subtle half brake at the hemline will look perfect to show off your best brogues or polished oxfords.
Whether for your own personal comfort about the house or to make certain you're dressed to impress when you're out and about, getting the right fit for your trousers is essential. Follow the handy hints in this blog and you'll be sure to get the perfect look, whether it's classic or contemporary.