Sorry, your browser is out of date and some features may not work. Please use a more up-to-date browser to use all of the features of chums.co.uk
How to take care of knitwear
With the weather becoming cooler and winter looming, it's time to ditch the shorts and summer dresses and switch to clothing that is more capable of keeping the heat in and the cold out. Wool is a thick, warm and comfortable material that many rely on for jumpers, gloves, socks and hats. However, wool and other forms of knitwear require special care to avoid damage and maintain their condition.
In an effort to help anyone that wants to look after their knitwear correctly, this blog offers advice on washing, drying, folding and storing knitted items of clothing.
What is fully fashioned knitwear?
An approach that is often used to limit material waste, fully fashioning is a calculated method of assembling an item of clothing where each section is created separately and then combined together at the seams. It is primarily used for
knitwear
as the process of knitting each section would traditionally be carried out by hand before the sections were patched together using a sewing machine.
Knitted items of clothing are typically more sensitive and delicate than items made from other materials such as cotton, leather or silk. In an effort to prevent damage to this type of material, we've outlined tips on caring for knitwear below: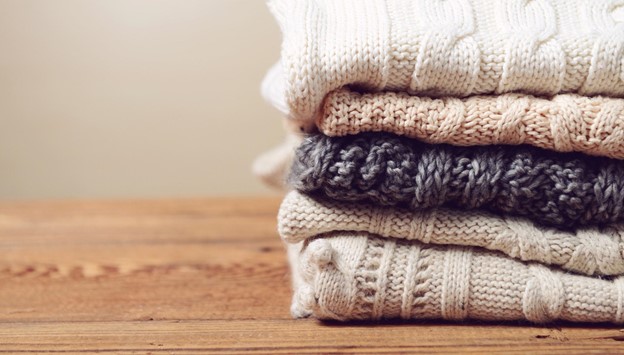 Eventually, you will need to wash your knitwear, and while it may be a concern that you could damage or shirk the material, there are ways of washing knitted garments safely. However, it's important to bear in mind that washing repeatedly over short periods of time could increase the risk of harming the material, so try to limit washes to around every five times you wear the item.
It would be advisable to wash any knitted items of clothing by hand. Simply mix lukewarm water with a mild detergent in a bowl and leave the garment to soak for around five minutes. Then, squeeze all of the water out of the garment but avoid wringing it as it could potentially damage the material. Once you've got rid of as much water as possible, gently lay the garment flat on a towel, wrap it up and leave it to dry.
Alternatively, you can wash knitted items of clothing in the washing machine safely as long as you follow a few simple instructions. It's important that the washing machine is set to a gentle cycle and the lowest possible temperature. You should also use only a limited amount of detergent. However, if you are concerned that the garment could become damaged, it may be safer to hand wash as using a washing machine does carry risks.
As previously mentioned, the most suitable way of drying a knitted item of clothing after washing by hand would be through wrapping it in a towel. However, you may be wondering if it's possible to dry a knitted garment in the tumble dryer. It's advisable to avoid drying this type of material in the tumble dryer unless specifically instructed. While some knitted items are synthetic and may be dryer-safe if dried on a gentle spin using the lowest possible temperature, other items could be damaged or actually shrink in the high temperatures created by a tumble dryer.
In some instances, folding knitwear incorrectly may cause the material to get tangled or snag a thread to cause potentially irreparable damage to the garment. To avoid this from happening, you should fold knitted items of clothing properly.
Steps for folding knitwear:
Lay the knitted garment out flat.
Fold both sides until they meet in the middle.
At the midpoint, fold the knitted garment from the bottom to the top.
Although this process may be more difficult depending on the type of clothing, it can be used on any item to prevent damage.
Another factor that could potentially damage sensitive materials such as forms of knitwear is how they're stored. Not only could the incorrect method lead to a thread being pulled, but the location could also potentially cause damage. Fortunately, however, there are a few ways of storing knitted items of clothing that should be perfectly safe.
Folding up knitted garments and placing them on shelves with plenty of space around them should avoid damage, particularly if you handle them carefully and avoid stacking harsher materials around them. Or you could carefully fold them and place them in shallow drawers. It's often advisable to avoid hanging them up. However, you could do this as long as you use padded, foam covered clothes hangers and space them out alongside other items of clothing.