How to wash a waterproof jacket
A waterproof jacket is an item of clothing that is designed to protect the user against the rain. But while this could simply mean wearing one for walking outside in torrential weather, it could also mean using one while running, hiking or enjoying other outdoor activities in areas that are muddy, dirty or messy enough to require a certain level of coverage.
Regardless of your reasons for buying a waterproof jacket, if you're in certain weather conditions that could leave you cold, wet or mucky, it's the ideal solution. However, if your waterproof jacket has become dirty and needs to be cleaned, you may be wondering about the best ways to wash it. In this blog, we offer guidance about washing a waterproof jacket including using a washing machine and removing stains.
Can you wash a waterproof coat?
Whether your waterproof jacket has become dirty from outdoor walks, creased after being folded in an unsuitable way or it simply needs freshening up, it's not only possible but also super easy to wash it. However, it's important to bear in mind that washing it incorrectly could lead to potentially irreparable damage to the material.
Below, we answer simple questions about washing a waterproof jacket before offering helpful tips.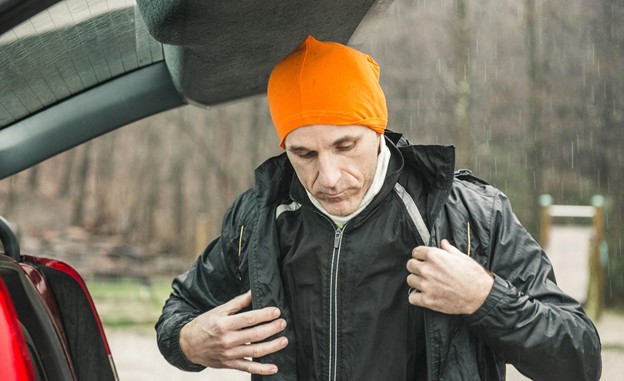 Can you wash a waterproof coat in the washing machine?
Although you may consider washing your waterproof jacket by hand, it's far easier to wash it in the washing machine, and it's perfectly safe to do this providing you avoid standard laundry detergents and fabric softeners. Many cleaning products can damage the waterproof material, so they're best avoided. Instead, either run your washing machine on empty until it has no trace of detergent from past washes or use a product that is designed for cleaning waterproof materials.
How do you wash a waterproof jacket?
Steps for washing your waterproof jacket:
1. Remove as much mud and dirt as possible by hand
2. Zip up all of the pockets and, if it's a zip-up jacket, zip it all the way until completely closed
3. As previously mentioned, before washing, check that the washing machine doesn't have any traces of detergent or fabric softener
4. Once the washing machine is clear of cleaning products, use a product that is designed for waterproof clothing, or if you don't have anything suitable, try washing it without detergent
5. Place your waterproof jacket in the drum of your washing machine by itself. If you want to wash multiple waterproof materials, wash them separately
6. Run your washing machine on a 30 degree wash and rinse cycle
7. Once it's finished, leave it out to dry naturally or put it in the tumble dryer on a low to medium heat. However, if you decide to use your tumble dryer, always check the jacket's instructions to ensure it won't become damaged.
How to clean a waterproof jacket
After washing your waterproof jacket, you may find that it isn't entirely clean or that there are deep set stains that are hard to completely remove. Fortunately, if you're having problems with the presence of stains on your waterproof jacket, there are a few effective remedies you can try.
How to get stains out of a waterproof jacket
Tips for removing stains from a waterproof jacket:
Baking soda -For plastic raincoats, fill your sink or a bucket with water, add half a cup of baking soda, place your jacket into it and allow it to soak for an hour. Then, remove it from the water, rinse with clean water and leave to dry.
Soapy water -If the zips or buttons are stained or discoloured, mix soap and water in a cup and use a toothbrush to clean the affected areas.
Stain removal products -There are many cleaning solutions that are designed to remove stains from clothing. You'll often be able to apply them pre-wash as a powder or spray that absorbs into the stain and lifts it away from the material.
Water and vinegar -Combine water with vinegar and use a sponge to scrub any hard to remove stains. If it doesn't work straight away, leave it to soak onto the jacket and wash away with water afterwards.