How to choose leather gloves
Leather gloves are a sleek and stylish item of clothing that can bring an element of elegance to your outfit. But while you may wear a pair to finish off your look and suit your style, it's important that they're keeping your hands warm, comfortable and dry during cold and unpleasant weather too. However, if you choose the wrong leather gloves that aren't suited to your needs and requirements, you may fall short in covering all of these considerations
In this blog, we offer guidance on choosing leather gloves, provide a selection of factors you may want to consider for picking gloves that match your needs and answer simple questions on just how effective leather gloves are at protecting your hands on cold, wet and windy days.
What to look for in leather gloves
When it comes to picking out leather gloves, you should base your decision on more than just the simple factors like the price and general appearance. Although gloves are going to be worn as part of an overall outfit, it's important that they tick certain boxes. For instance, as a starting point for identifying the correct gloves, you should consider what they're going to be used for and the climate they're going to be worn in.
As they will be covering your hands, you also need to check that you can move your fingers enough to carry out simple tasks. If you want to continue using your phone while wearing gloves, for example, you may decide to invest in gloves that are designed for being effective on the screens of smartphones and tablets.
It's also important that you get a suitable level of protection with the gloves you wear. If they're being worn in below zero temperature or during particularly rainy, windy or snowy days, you need them to be insulated to keep warmth inside and keep the cold out, as well as being thick and padded for comfort.
A factor that will play a crucial role in how effective your gloves are is the sizing. As such, before you pick out a pair of gloves, you should check that they're the right size for your hands. If you're unsure of your glove size, you can use our guide on measuring for gloves to determine the right fit for you.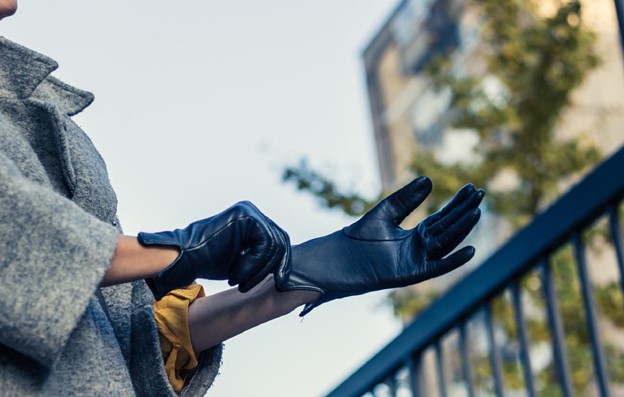 How effective are leather gloves?
As you will be using your gloves for keeping your hands warm and comfortable, you may be interested to learn more about how effective leather gloves actually are. Below, we've answered a couple of questions around the effectiveness of leather gloves and how capable they are in protecting your hands against unpleasant weather conditions.
Are leather gloves warm?
Between leather and other materials like cashmere, wool, cotton and polyester, there is often a debate over the warmest and most comfortable material when it comes to gloves. However, leather is a proven material for warmth as it is dense and insulated, making it effective in keeping your hands protected from the cold.
Unlike other materials, leather gloves are also typically well fitted and sit close to your skin. If you pick a pair that fits the size of your hands perfectly, you should be able to get the most warmth and comfort out of your leather gloves. Another benefit to getting leather gloves that are perfectly fitted is that it will also allow you to carry out simple tasks while wearing them without impeding the dexterity of your hands and fingers.
Are leather gloves waterproof?
Although leather gloves are effective at protecting your hands from the cold, they aren't always waterproof. In some cases, they may be, but this is often only true of leather gloves that are combined with another material that is water resistant, such as nylon or polyester.
Leather gloves are protective and, if insulated, could be effective in protecting your hands against the rain. However, if you're often in torrential weather and find that your hands are frequently becoming wet, you may want to consider gloves that are designed to be waterproof.