How to tell if a jacket is waterproof
Many jackets and coats are designed using a selection of materials that are suitable for different weather conditions, temperatures and uses. If you need a jacket for the summer, you should choose one that is thin and light, while a winter jacket needs to be thick and capable of protecting you from the cold. Likewise, if you're spending a lot of time in rainy weather, it's crucial that your jacket is waterproof.
In this blog, we explain what jacket materials are waterproof and would be suitable for exposure to this type of weather.
What material are waterproof jackets?
You can often identify whether or not a jacket is waterproof based on a number of factors. For instance, waterproof jackets often have multiple layers that are utilised for stopping the passage of water and features that will ensure protection from water such as sealed seams and waterproof zips. However, as not all jackets have these tell-tale signs, it may be hard to tell if it's waterproof. Below, we've highlighted some common jacket materials and explain whether or not they're waterproof.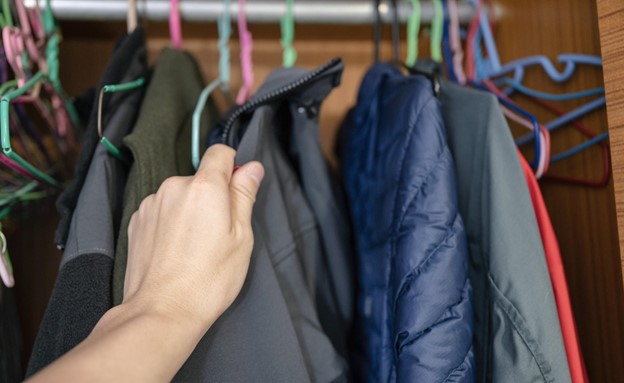 Are fleece jackets waterproof?
Although fleece isn't waterproof, it's often worn by itself during particularly cold days where rainfall is unlikely or alongside other items of clothing during walks in wintery weather. For example, due to how effective fleece is for heat, a fleece jacket may be worn beneath a waterproof jacket to keep heat from escaping
Are leather jackets waterproof?
A thick and strong material, leather is a popular choice for cold weather. But despite its effectiveness at protecting against the heat, leather isn't waterproof. However, it is water resistant, meaning it can withstand light rain and stop small amounts of water from passing through the material.
Are nylon jackets waterproof?
Nylon is a frequently used material for clothing that's been designed for wet, cold weather. It is often used for jackets, tracksuits and hiking clothing, and it is often assumed as being waterproof. In fact, nylon isn't waterproof and can actually absorb water, allowing it to come into contact with the individual. However, it is one of the best materials for water resistance and may be combined with another material to make an item of clothing that is effective in protecting you from cold and wet weather conditions.
Are parka jackets waterproof?
Thick and long in appearance, parka jackets are worn in the winter for reliable protection against the cold. In terms of protection against the rain, parkas can be made from a multitude of different materials, but while they aren't always waterproof, the combination of materials will often provide complete cover from the rain.
Are quilted jackets waterproof?
Growing in popularity over recent years, quilted jackets are often a fashion statement for many during the colder months of the year. The material is also completely waterproof, with the strength and durability required to keep water out.
Are suede jackets waterproof?
Unlike many of the previously mentioned materials, suede isn't suited to wet weather conditions. If water comes into contact with suede, it will be absorbed and the material will become damaged, leaving water marks, lines and irreparable damage to the condition of the material. As such, it would be recommended to save suede jackets and other items of clothing made from this material for warm, sunny days.
What is the best waterproof material for jackets?
If you're looking for a jacket that has all of the necessary features for reliable and effective protection from the rain, you may be wondering what the best material would be. As previously mentioned, materials like fleece, leather and nylon can keep off the rain in small doses, whereas materials like suede are best avoided as they will face severe damage if exposed to water.
Many waterproof jackets are created using a form of polyester such as microfibre or polyurethane laminate. It is similar to nylon and often used alongside it, but it is far more effective at preventing water from passing through. Alternatively, other materials that are effective in keeping off the rain include laminated cotton and Gore-Tex.