We have noticed you are using an older version internet browser. To gain the best experience from our site we recommend upgrading your internet browser.
A Chums competition: Rewards for Community Heroes: The Winners


At Chums, we're delighted to announce the winner of our community heroes competition.
We wanted to celebrate the 'make do and mend-ers', the activist trailblazers, our fiercest protectors and the guardians of our history. Always ready with a story to tell or wisdom to share, they're the unwavering support we all need in our lives.
That's why last month we asked you to #ChooseYourCommunityHero to recognise the older generation's contributions to the world around us.
You didn't disappoint. We were humbled and proud to read the stories of local community heroes who constantly make the world a kinder place.
We're inviting people across the UK to nominate a senior in their life who deserves to be rewarded for all they've done. They might be an older person who has gone above and beyond in their local community, an armed forces or military veteran, or an outstanding senior who has done incredible things for their family.
Remember, our three lucky winners will each receive a "Reward Package", which includes:
A £100 Chums voucher
Theatre tickets for two
A £100 Ryanair voucher
A jigsaw puzzle
A box of chocolates

A five-year diary

Without further ado, and in no particular order, here are our winners!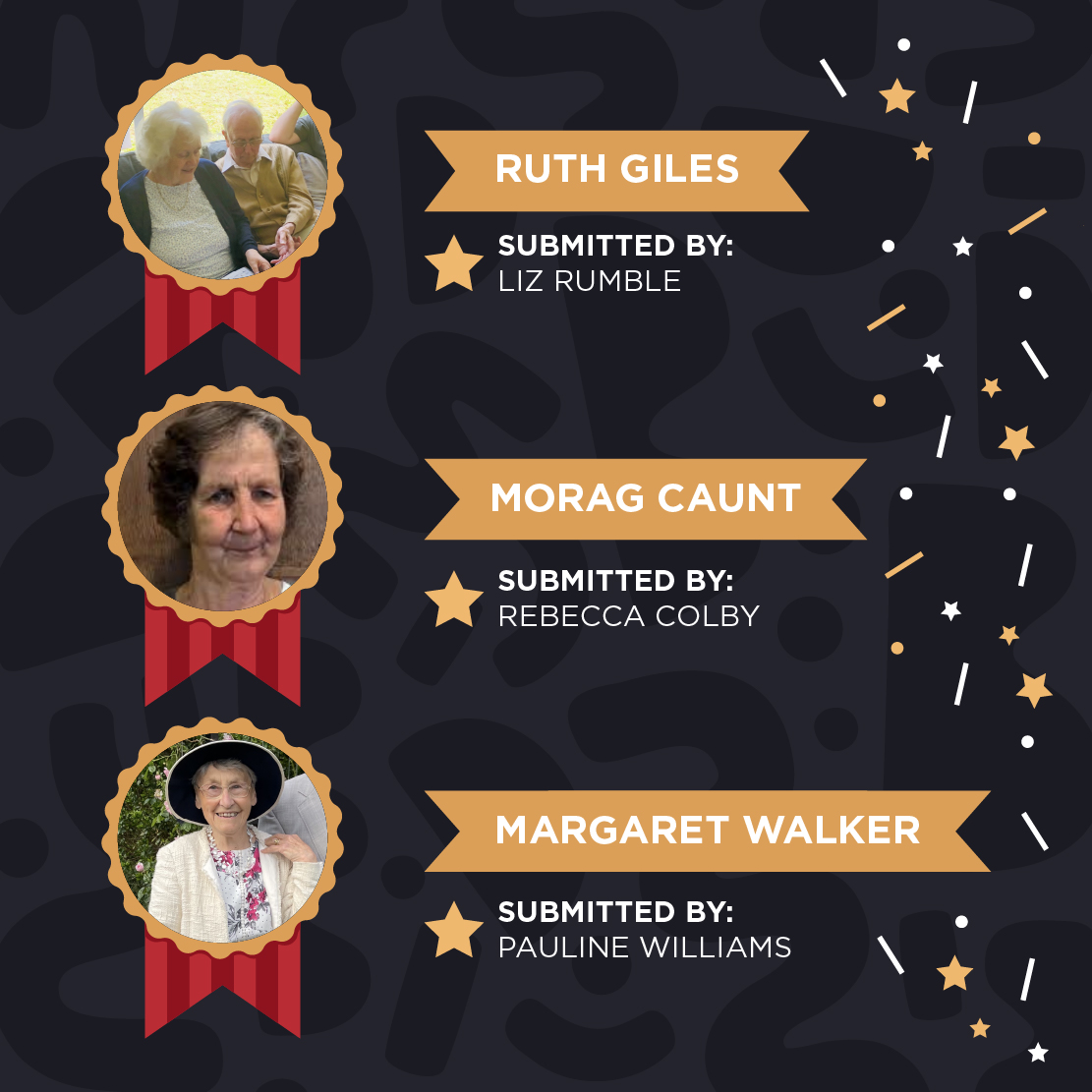 Community Hero winner: Ruth Giles
Nominated by her daughter Liz, Ruth Giles is a kind and thoughtful member of her local community. Ruth is always prepared to lend a helping hand. Whether that's by offering a shoulder to those in need, or running assemblies at the local primary school, Ruth constantly puts others before herself. Year round, she's regularly on the lookout for little gifts to fill Christmas appeal boxes for young children and is permanently ready to break out the knitting needles for those in need.
Community Hero winner: Morag Caunt
A former paediatric nurse and family support worker, Morag Caunt works tirelessly to improve the lives of young people in her community. By working closely with incarcerated people and their families, Morag is helping to break the cycle and change the futures of vulnerable young people. She's written two story collections aimed at warning teens about dangerous situations and learning to protect themselves. She's also building awareness around issues of PTSD and mental health.
Community Hero winner: Margaret Walker
Margaret Walker is a born entertainer, who spends her time bringing joy and laughter to dementia patients at her local nursing home. At a spry 83, Margaret has more energy than most people a third of her age and shows no signs of slowing down. Margaret is also an active member of her local church. She regularly volunteers at "messy church" for children and writes and stars in her own plays to bring Bible stories to life. Margaret is even a talented musician, who's often called to step in and provide musical accompaniment to church services.
Congratulations Ruth, Morag and Margaret, and thank you for your tireless support of your communities.
Help us celebrate our worthy winners by using the hashtag #ChooseYourCommunityHero.
Copyright © 2023 Chums
PayPal Representative Example:

Representative 23.9% APR (variable) Purchase interest rate 23.9% p.a. (variable) Assumed Credit limit £1,200

Finance provided by PayPal Credit. Credit subject to status. Terms and conditions apply. UK residents only.

CHUMS, Unity Grove, Knowsley Business Park, Liverpool, L34 9AR, acts as a broker and offers finance from PayPal Credit. PayPal Credit and PayPal Pay in 3 are trading names of PayPal UK Ltd, Whittaker House, Whittaker Avenue, Richmond-Upon-Thames, Surrey, United Kingdom, TW9 1EH.