We have noticed you are using an older version internet browser. To gain the best experience from our site we recommend upgrading your internet browser.
What to pack for a staycation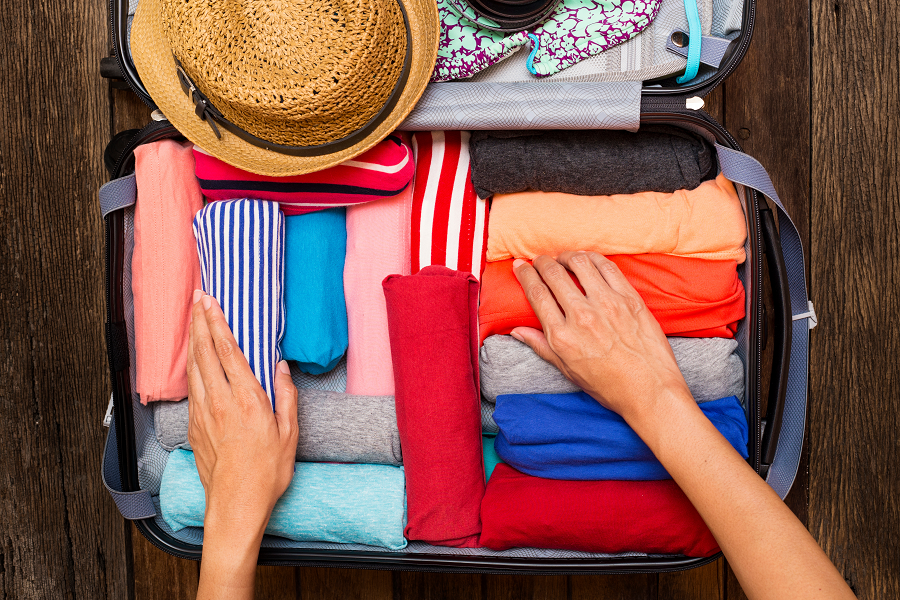 Packing for a holiday can be equal parts exciting and stressful. While you're naturally looking forward to the wonderful time you'll have away from your everyday worries, you might also have concerns about forgetting to pack something you'll need, or how you'll fit everything in your suitcase.
In this blog, we'll help to guide you through packing for a staycation to take the stress away so you can look forward to your holiday in peace.
What to wear on a staycation
When you're packing to go away, the biggest proportion of your luggage will likely be made up of clothes and accessories. It's a good idea to make sure you pack enough variety to keep you satisfied throughout the holiday and prepare for every eventuality – but that doesn't mean you need every item in your wardrobe. Try to choose multipurpose items that can save space in your luggage while covering different functions during your time away.
Of course, one option for your staycation is to remain at home and become a tourist in your local area. If you're doing this, then you don't need to pack like you would normally – you'll have access to your whole wardrobe! However, you might find it useful to go through the motions of packing, or rather to plan what you'll be wearing on your holiday.
Many of us tend to dress up a bit more when we're going away, and a staycation shouldn't be any different. Planning your outfits intentionally can help you to wear those clothes you might not usually get the opportunity to wear in your everyday life – and this can make your holiday feel even more special!
Although there's obviously no need to actually pack your outfits away in a suitcase, you might find it helpful to separate them from the rest of your wardrobe – even if that means just grouping them together at one end of the rack. Think of it as a holiday capsule wardrobe, with the backup options of the rest of your wardrobe if the weather goes awry or your plans change.
Staying in overnight accommodation
If you're staying elsewhere, whether that's a hotel, a caravan or a tent out in the wilderness, you'll need to pack a bag or two to take with you. Staycations are less restrictive than holidays abroad – no need to weigh your luggage to check whether it meets the requirements to fly – so you can be a bit freer with your choices. Another benefit of a staycation when it comes to packing is that, since you're staying in the UK, you already have a fairly good idea of what the climate will be like at that time of year.
That said, the weather in this country is notoriously unpredictable, so it pays to bring a few options with you. Casual trousers are a solid choice for most of the year, but if it's summer you might wish to bring along some shorts or a skirt as well for variety.
As for what to wear on top, this depends to some extent on what you're doing. Blouses and dresses are a great choice for women, and polo or other casual shirts for men. If you're going to be dressing up a lot – for example, when having your evening meal – make sure you have options you can mix and match to refresh your outfits.
Shoes can be bulky, so ideally you want to stick to a maximum of three pairs per person, including the ones you'll wear to travel. These could be:
One pair of casual shoes
One pair of formal/evening dress shoes
One pair of shoes best suited to a particular activity (optional)
The latter pair of shoes could be considered a sort of wildcard as what you need will depend on your activities. If you're going to be hiking, you might need walking shoes. If it's a beach holiday in summer, a pair of sandals might be more suitable. Of course, if you're doing both these things, you might need more than three pairs of shoes – if you've got the space, bring them. Alternatively, you might not need a third pair of shoes at all. A three-pair maximum is simply a good rule of thumb to help you pack.
What to bring on a staycation
Although clothes are an integral part of your luggage for a staycation, you're going to need other things like toiletries and towels, for example. The good news is that, so long as you're not flying to your destination, you don't have to limit yourself to 100ml bottles, so you can take all your creature comforts with you if you so wish.
As well as these items, you might also want to bring along some things to help you enjoy the area you're travelling to – or your local area, if you're staying close to home. Items like paper maps, binoculars and a good quality camera can help you to make those special staycation memories and capture them!
Copyright © 2023 Chums
PayPal Representative Example:

Representative 23.9% APR (variable) Purchase interest rate 23.9% p.a. (variable) Assumed Credit limit £1,200

Finance provided by PayPal Credit. Credit subject to status. Terms and conditions apply. UK residents only.

CHUMS, Unity Grove, Knowsley Business Park, Liverpool, L34 9AR, acts as a broker and offers finance from PayPal Credit. PayPal Credit and PayPal Pay in 3 are trading names of PayPal UK Ltd, Whittaker House, Whittaker Avenue, Richmond-Upon-Thames, Surrey, United Kingdom, TW9 1EH.