We have noticed you are using an older version internet browser. To gain the best experience from our site we recommend upgrading your internet browser.
What to wear with crutches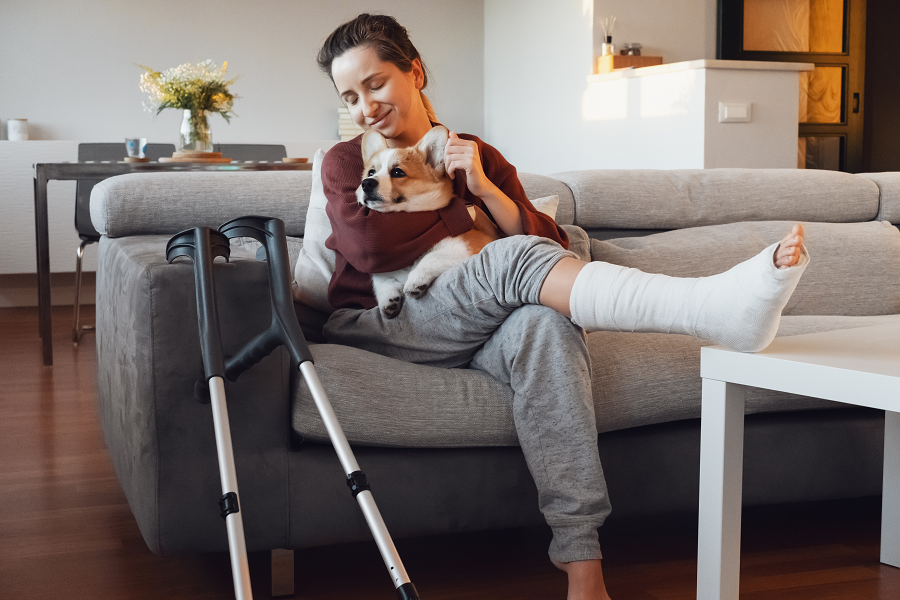 If you need crutches or a cane to get about, it can have a big impact on how you do simple tasks like getting dressed and carrying around the things you need for the day. Whether you're using mobility aids temporarily while recovering from an injury or you need them long term, it can be helpful to learn a few tips and tricks to make your everyday life a little easier.
What to wear while on crutches
When using walking sticks or crutches, there is a balance to be struck between wearing clothes that don't put you at greater risk of injuring yourself and wearing clothes that look and feel stylish.
If you have reduced mobility in your legs, this can make it harder to pull on trousers and shorts, particularly tight-fitting styles. For this reason, you might be better off sticking to less slim-fitting styles, and considering trousers with elasticated waistbands. These are comfortable and easy to get on and off. If you're wearing a leg brace or cast, be sure to check that you can fit your foot down through the trouser leg.
Looking for something roomier? Dresses and skirts can be an excellent option, as they don't tend to constrict your legs at all. Try not to opt for 'maxi' length styles, as it can be easy to trip on the hem and injure yourself. Dresses and skirts that fit close to the skin can be a good option but give them a little test before you go outside in them. You don't want to choose anything that ends up making it more difficult to walk.
Another thing to consider is fastenings. If you require your cane or crutch to help you balance, it can be tricky to fasten zips or buttons with your remaining hand. Therefore, it would be easier to choose clothes that don't have such fastenings – such as pull-on shorts, for example. Remember that you'll have to navigate any fastenings not just when you get dressed and undressed, but also when you're going to the loo. What is only a mild inconvenience at the start of the day can build up into a bigger annoyance as the day wears on, so pay attention to anything that makes things more difficult for you.
What shoes to wear with crutches
Shoes, of course, can have a big impact on your mobility. Wearing shoes with a big heel, whether they're wedge sandals, boots or stilettos, can make it harder for you to balance and walk without tripping and falling. Even platform shoes can be tricky in this respect, so it's best to stick to something with a thinner sole for greater stability.
It's also important to think about the fastenings on your shoes. Consider how you will put them on. Will there be someone to help you tie laces or secure hook and loop fastenings? Will you be able to do it yourself if there is no one around to assist? If bending over or balancing while doing so is difficult, your best option might be to try slip-on footwear such as boots.
If you're confident of being physically able to fasten your shoes alone, it may still be a good idea to avoid laces. How many times in the past have you accidentally trodden on the laces of your other shoe and nearly tripped or fallen? It's not ideal when you're in peak health, but it can have disastrous consequences if you are already using a walking aid. For example, it can halt your recovery or cause a flare up of your condition. You know best what you can deal with, so wear laces if you feel safe doing so. But thinking about these things can help to avoid accidents and injury in the long run.
How to carry your belongings while on crutches
When we speak of carrying our belongings, in most cases the best thing to do is use a bag. But not all bags are up to the task. Bags with long straps can bang against your legs and get tangled up, making it harder for you to walk with crutches. Where possible, stick to backpacks that stay well out of the way while you walk. But sometimes, you're not carrying enough to require a bag. What should you do then?
If you're used to walking without crutches or canes, you might not think you need to make arrangements for carrying small items like your phone. If you have two crutches, then obviously you can't hold anything in your hands, but if you're only using one, surely you can. Right?
Technically, of course, you can, but it can be dangerous to do so. Think of what would happen if you were to fall. It's likely that whatever you are carrying will get thrown away so you can use your hand to try and protect yourself. If it's your phone, it could be damaged. If it's your wallet, you might lose it. And if it's a piping hot beverage, you could end up with coffee-coloured walls – or worse, scalded skin.
Plus, if you're holding your phone because you're doing something on it, it's not a good idea to walk with your crutch at the same time. With your attention on the phone, you're more likely to trip on obstacles in your path that you'd normally notice and avoid.
Ideally, your phone and/or wallet should go in your pockets. If this isn't an option, try a bag that isn't going to swing and bang against your legs – a waist bag or small backpack would work. As for your drinks, exercise good caution. If you're out and about, stick to sealable containers like flasks and bottles that you can put in your bag while you're on the move. You can use a flask at home, too, if you like. When it comes to carrying open drinks up or down the stairs, consider letting someone else help.
Copyright © 2023 Chums
PayPal Representative Example:

Representative 23.9% APR (variable) Purchase interest rate 23.9% p.a. (variable) Assumed Credit limit £1,200

Finance provided by PayPal Credit. Credit subject to status. Terms and conditions apply. UK residents only.

CHUMS, Unity Grove, Knowsley Business Park, Liverpool, L34 9AR, acts as a broker and offers finance from PayPal Credit. PayPal Credit and PayPal Pay in 3 are trading names of PayPal UK Ltd, Whittaker House, Whittaker Avenue, Richmond-Upon-Thames, Surrey, United Kingdom, TW9 1EH.