Yes, this summer, checks are trending. Check shirts for men and check blouses for the ladies in natural fabrics are all the rage online and at Chums it's no different. Check out these super summer short sleeve shirts with three superb examples for men in a great range of sizes up to 4XL and two fashionable styles for ladies from size 10 rights up to size 26 in the coolest 100% cotton around.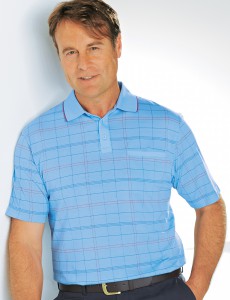 If Tootal is your brand of choice there's a casual mens polo shirt in a stylish yarn dye in beige or blue with contrast overcheck and you can now save £10 off the previous prices (style ML235) whatever your size.
A classic easy fitting button through mens check shirt with a single chest pocket looks just the part (style MF240) this time available in a choice of 3 colours a natural oatmeal, unusual lovat and of course again the ever-popular blue now from only £14.99 when you buy a couple.
Then there's the traditional tattersall check shirt in blue, green or classic beige backgrounds. Buttoned through and with a single chest pocket, this style never fails to look great on a guy (style MF241). Buy 2 of these shirts you can now save £6 off all sizes!
Right now you can see similar trends for the ladies with a classic check blouse sporting a button through placket and stylish tab buttoned short sleeves. Style LN112 looks great in the available colourways of a blue mix or a green mix, always popular this summer. Again you can save £10 off previous prices when you buy now.
Another attractive short sleeve button through blouse is style LN070 available in a wider choice of 3 colours - pink, blue or apple green. With 3 colours to select from, you can save £10 when you buy any 2 of them.
So whatever you're doing or wherever you're going, there's a style or two for you in your size. You'll look smart and bang on fashion this summer without spending a fortune. Check them all out now!