How do portable toilets work?
For anyone struggling with mobility, even the most simple tasks can suddenly become extremely difficult to carry out. Whether caused by an injury, an ongoing condition or as a side effect of getting older, mobility issues can leave people unable to move around their home without pain or discomfort.
Problems with mobility can also impact going to the toilet. However, if you're finding it difficult to use the toilet, you could use a portable toilet as an alternative that allows you to use it in a space that's convenient to you. In this blog, we explain what portable toilets are, how they work and how you clean them out.
What is a portable toilet?
A portable toilet is a form of lavatory that can be easily transported and used in any area of the home to assist an individual that has difficulties with moving around.
Often compared to commodes, portable toilets are better equipped for quick and easy movement to another area and offer a separate, larger storage space for waste. Unlike a commode, portable toilets are designed to look like toilets, usually with a lid, toilet roll holder and seat. This differs from commodes, which are usually designed to look like normal household chairs so they can blend into sitting rooms and bedrooms in your home.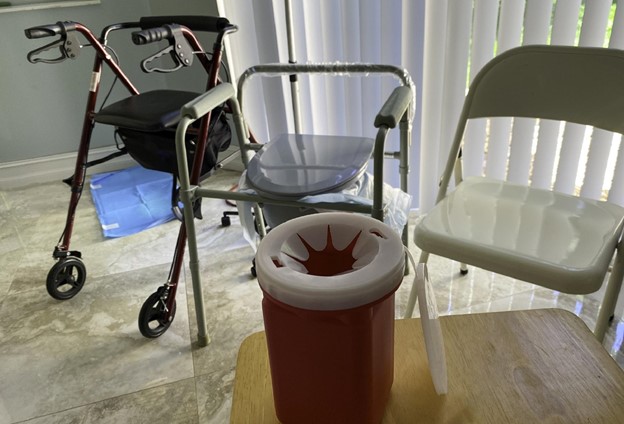 How to use a portable toilet
Using a portable toilet is simple. All you need to do is place it in your chosen area, and when you're suitably happy that it's secure and unlikely to move, use it as you would a traditional toilet. You can then use the toilet paper attached to the toilet by a dispenser, and when it begins to smell or the waste section is full, empty the toilet and clean it out.
How do you dispose of waste from a portable toilet?
Removing waste from a portable toilet can be unpleasant, but by doing it correctly, you should find that it's a straightforward task. Many portable toilets will have a clearly outlined method of removing the bucket below. Once you've disconnected the waste bucket, simply pour the waste away.
Alternatively, you could consider using commode liners. These attach over the top of the portable toilet bucket, allowing for quick and easy removal of the waste. You can then replace it with another commode liner, limiting the amount of cleaning you will need to do.
Where to empty a portable toilet
You may be concerned that you will need to dispose of the waste from your disposable toilet in a designated area or via a service that specialises in dosping of this type of waste. However, while this would be true of chemical toilets or more substantial portable toilets that would be used for certain events, such as at music festivals and on campsites, waste from a household portable toilet can simply be poured down the toilet and flushed away.
How often do you need to empty a portable toilet?
If you've recently bought a portable toilet or just haven't used one before, you may be wondering how frequently it should be emptied. For hygiene reasons, it's important that you avoid contamination at all costs. As such, it would be strongly advisable to empty a portable toilet every time it's used. Although it may be difficult to do this, having human waste lingering in a portable toilet could cause a smell or make it more difficult to remove if left unattended for a long period of time.
How to clean a portable toilet
After the portable toilet has been used and you've disposed of the waste in the bucket, you need to ensure that the bucket is correctly cleaned and the rest of the portable toilet is free of contaminants.
If you've cleaned a commode before, you'll find that the process is near enough the same. Start by rinsing the portable toilet bucket with water and using an effective cleaning solution to remove any remaining traces of waste. It would also be easier to stop pieces of waste from becoming attached to the bottom and sides of the bucket if you pour an inch of water into it prior to use. You should then use an antibacterial wipe to clean the rest of the portable toilet, paying particular attention to areas that the user will have come into contact with such as the seat and toilet roll dispenser.
What chemicals do I need for a portable toilet?
Unlike the types of portable toilets used at music festivals and campsites, home portable toilets don't require any chemicals. For more substantial portable toilets, chemicals are used to destroy odour and prevent contamination after multiple uses. A home portable toilet wouldn't need the same level of caution as it should be cleaned out after every use.