We have noticed you are using an older version internet browser. To gain the best experience from our site we recommend upgrading your internet browser.
How to protect the corners of furniture when moving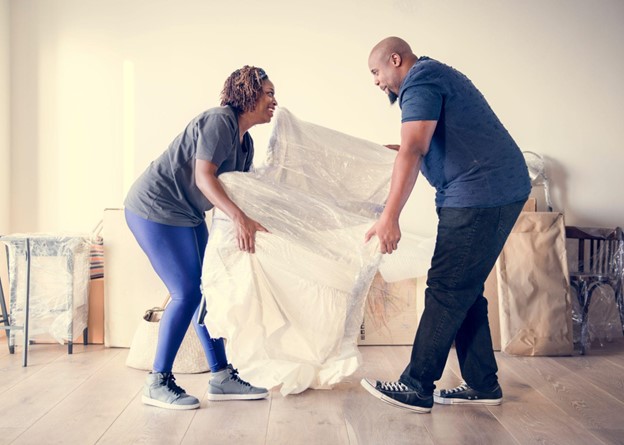 Whether you're preparing to move house or just refreshing your living space by moving furniture around your home, moving large items can be difficult. As well as the challenges presented by physically lifting heavy furniture, you also need to think about the best way to do it to avoid damaging your furniture, floors and even walls.
Below are some of our top tips to help you move things around without damaging your belongings or home.

How to protect furniture from scratches
Lifting and carrying furniture can be difficult at the best of times, especially those items that have protruding sections, making it hard to manoeuvre without bumping or scratching the walls. The first thing you should do to make moving your furniture as easy as possible is to detach any parts that can move. For example, this may include doors, drawers and shelves in cabinets.
It's also a good idea to remove static parts if possible as well - particularly legs and handles as these tend to stick out. And if your item of furniture can come apart further, such as a shelving unit which is really two bookcases fixed together, then take it apart. This will all make manoeuvring in tight spaces much easier.
One thing to bear in mind when you're taking furniture apart is the balance you want to strike between making it easy to move and making it quick to put back together in the desired location. If you're moving house, it may be easiest to take the item of furniture apart completely and rebuild it in your new home. But if you're just getting from one room to another in the same building, it's probably sufficient to take it apart enough that you can get it through the door easily, minimising the time needed to put it back together.
Top tip! When taking apart furniture, make a note of which screws go where to make reconstruction go as smoothly as possible.

Next, it's a good idea to add some form of cushioning to the edges and corners of your item of furniture. If the item in question is easy to move now - i.e. it fits through a door easily - this might be as simple as putting a dust sheet or blanket around it. This is a good idea for tables where you can take the legs off - just make sure that you can still comfortably grip your furniture well enough to carry it without slipping or dropping it. The protection of the cloth around the item should prevent scratches and soften any bumps. For less easily carried objects, you may want to use something a little more heavy duty, such as bubble wrap or blocks of polystyrene, to shield the vulnerable points.

How to protect hardwood floors from furniture scratches
When you're moving heavy objects, it can be tempting to push or drag them rather than lifting the item wholly off the floor, but this is a common way hardwood floors - and the items of furniture themselves - get scratched. It can also leave drag marks on carpet that need to be vacuumed away, and can sometimes put too much pressure on the legs of your furniture, causing them to snap or come loose. If you can't lift an item yourself, getting someone to help you can save a lot of hassle in the long run.
It's also a good idea to use pads or furniture coasters in your new location to reduce the impact of touchpoints on the hardwood floor. This is especially important for items that get moved a lot. Prime candidates include chairs, tables, storage cubes, footrests and ottomans.

How to protect walls from furniture
Whenever you're lifting heavy items like furniture, it pays to be sensible. Lifting in pairs not only helps to spread the weight evenly and makes it easier to lift the item, it also makes manoeuvring less difficult. Carrying a lighter load means you can take longer to judge distances, make tight turns and adjust your grip as needed. Plus, having someone else on hand to watch your blind spots can be helpful for avoiding scratches on your walls and doorways.
On the other hand, you might consider hiring professionals to help you make the move. This is a particularly good idea if the journey is long or hard to manoeuvre. Professional movers know all the tips and tricks that make moving furniture easier. On top of that, they're also strong and capable enough to handle heavy lifting. Moving furniture is what they do every day - so they'll know the best techniques to get the job done without damaging your walls or furniture.
Copyright © 2023 Chums
PayPal Representative Example:

Representative 23.9% APR (variable) Purchase interest rate 23.9% p.a. (variable) Assumed Credit limit £1,200

Finance provided by PayPal Credit. Credit subject to status. Terms and conditions apply. UK residents only.

CHUMS, Unity Grove, Knowsley Business Park, Liverpool, L34 9AR, acts as a broker and offers finance from PayPal Credit. PayPal Credit and PayPal Pay in 3 are trading names of PayPal UK Ltd, Whittaker House, Whittaker Avenue, Richmond-Upon-Thames, Surrey, United Kingdom, TW9 1EH.