We have noticed you are using an older version internet browser. To gain the best experience from our site we recommend upgrading your internet browser.
How to support your back when sleeping
When you're experiencing a sore back, sleeping in an unsuitable position or with an incorrect pillow could continue to cause pain or even potentially worsen the feeling of discomfort. Whether it's upper or lower back pain, the position you sleep in and the pillow you use could play an important role in determining whether your symptoms improve, stay the same or worsen.
In this blog, we offer ways to support your back when sleeping and provide guidance on choosing the correct sleeping position and support cushion, both for upper and lower back pain.
Can pillows cause back pain?
Unfortunately, in some cases, pillows can cause back pain as well as neck pain, headaches, numbness in the arms and shoulders and a general feeling of discomfort. However, while the wrong type or material of pillow could be the reason for neck pain, it could also be caused by the location and use of the pillow.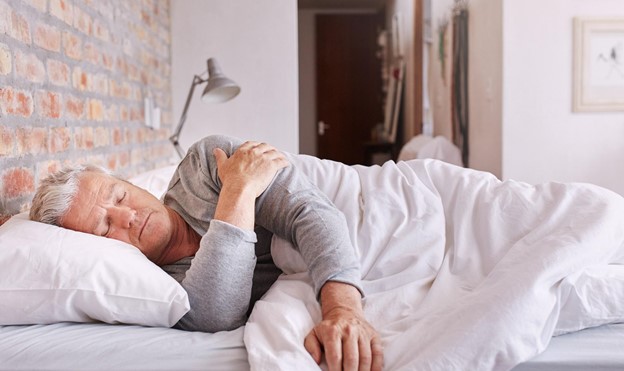 Does sleeping with a pillow between your legs help back pain?
For many people, sleeping on their side with a pillow between their legs can be a comfortable alternative if sleeping on their back isn't having the desired effect. But does it really help back pain or could it have an underlying negative impact?
In fact, sleeping in this way is effective in evenly distributing your weight, keeping your back in a natural shape and preventing you from rolling over, and it's been proven to reduce back pain, herniated disc pain and sciatica as well as improve posture.
Does sleeping without a pillow help back pain?
If a pillow appears to be causing discomfort, you may consider removing it entirely and sleeping without a pillow. Lying down without a pillow can help with both neck and back pain, particularly if you tend to sleep on your stomach. However, it doesn't work for everyone and it can be painful if you sleep on your side or back as it will put pressure on your neck, potentially creating or worsening pain in the neck and back.
How to support lower back pain while sleeping
Lower back pain is common and, providing there isn't any underlying problem, will likely improve within a few weeks. But as it can be extremely painful, it's important that you're sleeping in the correct position or you could prolong the pain or make it worse.
Where to place a pillow for lower back pain
If you have lower back pain or want to prevent lower back pain from occurring, you could sleep in a number of ways to protect this area. For example, you could sleep on your side with your knees pulled up to your stomach, on your front with a pillow under your stomach, on your back with a pillow under your knees or on your back in a reclined position. In all of these positions, you would need to have a pillow for your head or, as mentioned before, you could try sleeping without a pillow for your head providing you sleep on your stomach.
How to support upper back while sleeping
More resistant to injury, pain in the upper back often occurs as a long-term result of poor posture or from an injury or condition. If you're experiencing upper back pain, there are fewer options for correct sleeping positions, but it's important to get it right to avoid causing further damage to your upper back.
Where to place pillow for upper back pain
Unlike lower back pain, there aren't many options for sleeping in a suitable way for upper back pain. It would be advisable to lie on your back and support the painful area of your back by placing pillows directly behind it and propping it up, likely resulting in a slightly raised sleeping position. However, providing it isn't too painful, you could try sleeping on your side with pillows under your head and between your legs to prevent your knees from knocking together.
How to choose a pillow for back pain
When it comes to choosing a pillow to help with back pain, you should base your decision on a number of factors that are specific to you and your needs such as the firmness, height and width, shape and material of the pillow and the level of support it offers. For upper back pain, you should choose something that will offer support to the entirety of your upper back such as an orthopedic cushion or wedge cushion.
For lower back pain, however, you should pick a pillow that is better suited to being placed on your lower back such as a batwing support pillow. If you decide to sleep on your side, you could also consider a cushion that is designed for this sleeping position such as a memory foam leg pillow.
Copyright © 2023 Chums
PayPal Representative Example:

Representative 23.9% APR (variable) Purchase interest rate 23.9% p.a. (variable) Assumed Credit limit £1,200

Finance provided by PayPal Credit. Credit subject to status. Terms and conditions apply. UK residents only.

CHUMS, Unity Grove, Knowsley Business Park, Liverpool, L34 9AR, acts as a broker and offers finance from PayPal Credit. PayPal Credit and PayPal Pay in 3 are trading names of PayPal UK Ltd, Whittaker House, Whittaker Avenue, Richmond-Upon-Thames, Surrey, United Kingdom, TW9 1EH.