Shopping for new trousers can be a minefield, particularly if you're unsure of how they should fit or what leg measurement you are. Below, we've identified two methods that you can use for measuring your leg length so that you'll never have a pair of trousers that are too short or too long.
How to measure your leg length
There are two types of leg measurements: inside leg and true leg length. The trousers in most retail shops will provide trousers sizes in inches and this is usually the inside leg measurement. Other shops might simply provide 'Short', 'Regular' and 'Long' trouser sizes. In either case, it can be handy to know your leg length so that buying the right size trousers is guaranteed.
Before you start, you should make sure that you have the right equipment. It's more beneficial to have a clothing tape measure than a plastic or metal one. These are made of fabric and it's likely that you'll have seen them used by tailors. They can provide a more accurate measurement; however, you should be careful not to pull it too taut, as this can stretch it. Alternatively, don't let it hang too slack when you're taking your leg length as this result could prove inaccurate too.
It's also advised that you have a second person who can take the measurements. If you do this yourself, the height could be incorrect. A second person will be able to check the tape accurately.
Measuring your inside leg
Inside leg measurements are the most popular for trouser sizes and it's easy to find out what yours is.
You should place one end of the measuring tape on the inside of your leg as near to the crotch area as you can. Ask your helper to use the other end of the measuring tape to take a reading. If you do this yourself, you are likely to bend your leg and therefore the measurement will be wrong. Your helper should make sure that the tape isn't too loose or taut.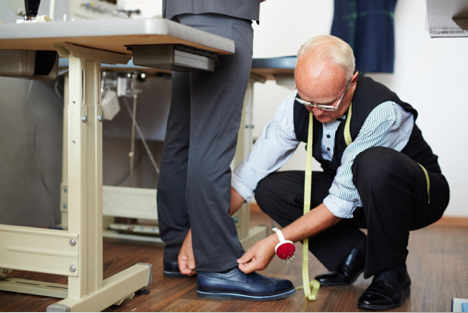 It can be hard to know where to measure to and decide where your leg actually ends. This is usually on or just below your ankle joint, or where a pair of trousers would naturally finish.
Measuring your true leg length
True leg length is normally used by doctors to determine whether a person has one leg longer than the other, or leg length discrepancy. This measurement is best completed by someone who can help you. Doing it alone could result in inaccurate measurements.
You should lie down on the floor with your legs straight and your feet apart so they're inline with your hips. Ask the second person to measure from directly under your hip bone to the bony joint on your ankle. Write down the results in inches and repeat for the other leg. It's worth noting that some difference in leg length is normal, so don't be alarmed if one is longer than the other. However, if the difference is more than half an inch, it could be affecting the way you walk and you may want to speak to your doctor about your options.
Do keep in mind that, if you're measuring your leg length for a bike or cycling shorts, the measurements are slightly more complicated so it's best to do this with someone who knows what they're doing.
What is a men's regular leg length
Occasionally, some shops will describe the leg length as 'Short', 'Regular', and 'Long' instead of specifying exact leg length. In most cases, a 'Regular' is around 32 inches. A 'Short' leg length is around 30 inches and a 'Long' leg length will be 34 inches. These measurements may differ depending on where you shop. At Chums, the range for formal trousers is 27, 29 and 31 inches. Some trousers are available in 33 inch leg length for taller men.
If in doubt, you could ask an assistant or call the shop to clarify. If you have unusually short or long legs, you may need to have your trousers tailor made.
Chums tailoring service
If the fit of your trousers, suits or blazers is not quite right, call us and for a small charge Chums will happily tailor these for you to suit your requirements. If you are local to our Chums main store, we will do it there and then for you. We also offer a free returns policy just to make things a little bit easier so you can rest assured that when it comes to adding another seamless addition to your wardrobe, we can help.