We have noticed you are using an older version internet browser. To gain the best experience from our site we recommend upgrading your internet browser.
The grandparent of the future supposedly looks like...this

Ever wondered what millennials will be like in their old age? In this blog post, we look at some of the trends that define this generation and imagine how young people today might evolve as they enter later life.
Here we've imagined what Chandler - our grandad of the future - might look like.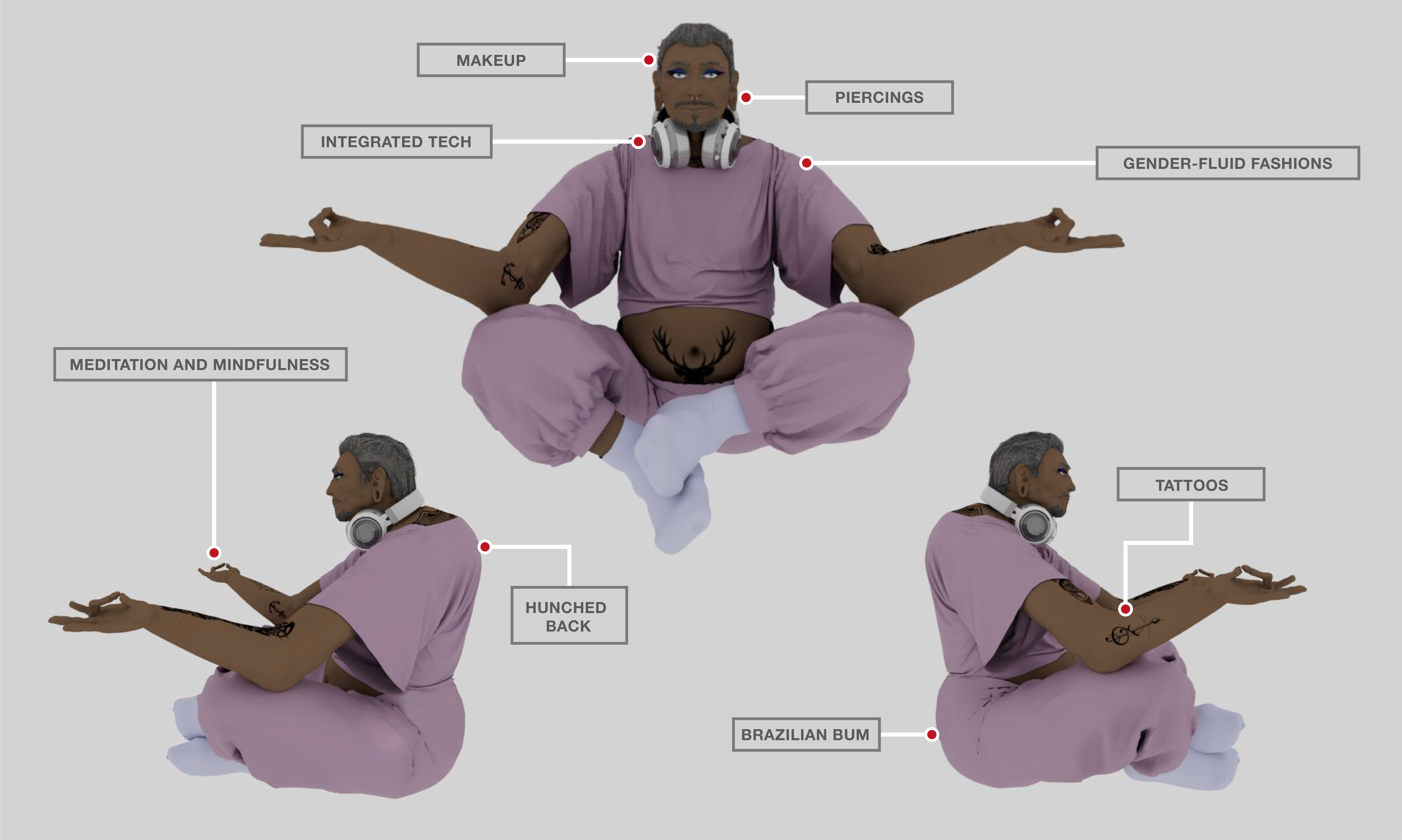 As beauty standards and gender norms change, for the youth of today, makeup is no longer seen as the preserve of women. More and more brands are creating makeup specially designed for men and, on YouTube, you can find hours and hours worth of makeup tutorial footage created specifically for a male audience.
So will grandads of the future know their concealer from their contour powder? We wouldn't be surprised if they did. Whether they want to express themselves with striking looks or simply boost their confidence by covering blemishes, we bet millennials won't be afraid to experiment with makeup well into later life.

From eyebrow and ear cartilage piercings to tongue and lip piercings, body jewellery and body modifications are yet another way that millennials like to express themselves.

While they may have once been associated with subcultures like punk rock and rave, in 2022 piercings are considered mainstream. With everyone from former boyband star Zayn Malik to footballing superstar Cristiano Ronaldo making piercings an integral part of their personal style, millennials won't raise an eyebrow at body jewellery - even in the workplace. With this in mind, we expect that older men of the future will be a lot more decorative than previous generations.
After years of hunching over computers in offices and phones and tablets in their free time, millennials are likely to suffer the physical consequences of bad posture and sedentary lifestyles. That's why Chandler has developed a hunched back and a bit of a belly in his older age.
Younger men are embracing the toned, sculpted bum look. To achieve this, squats have become something of a fitness obsession. Some men are even choosing to wear padded underwear and undergo surgery to maximise their glutes.
Not only is this look in fashion right now, but it also gives men an advantage in terms of strength and athleticism so we see no sign of this trend dying out.
With gender identity a major topic of conversation among young people, gender-fluid clothing is becoming more sought after. By the time the younger generation reaches retirement age, we expect gender-fluid clothing to be the norm.
Chandler opts for loose, comfortable clothing that he can style to show all sides of his personality.
Young people of today are rarely seen without a phone in their hand or earphones in their ears. With the rise of the metaverse and developments in artificial intelligence and robots, we expect technology to become even more central to the human experience.
Whether it's smart glasses, Bluetooth earphones or even chips implanted into the brain, future grandads will be closer than ever to their beloved devices.
Meditation and mindfulness
Caring for one's mental health and wellbeing is a core value for the younger generation. Millennial men live in a world where mindfulness and meditation are important parts of their daily routine. In fact, according to research by Kantar, more than one in five millennials use meditation as a coping mechanism, and as the world becomes increasingly more complex, we expect they'll take these habits into older age.
Phoebe, our future grandmother, has been created to help us envision what millennials might be like as older women.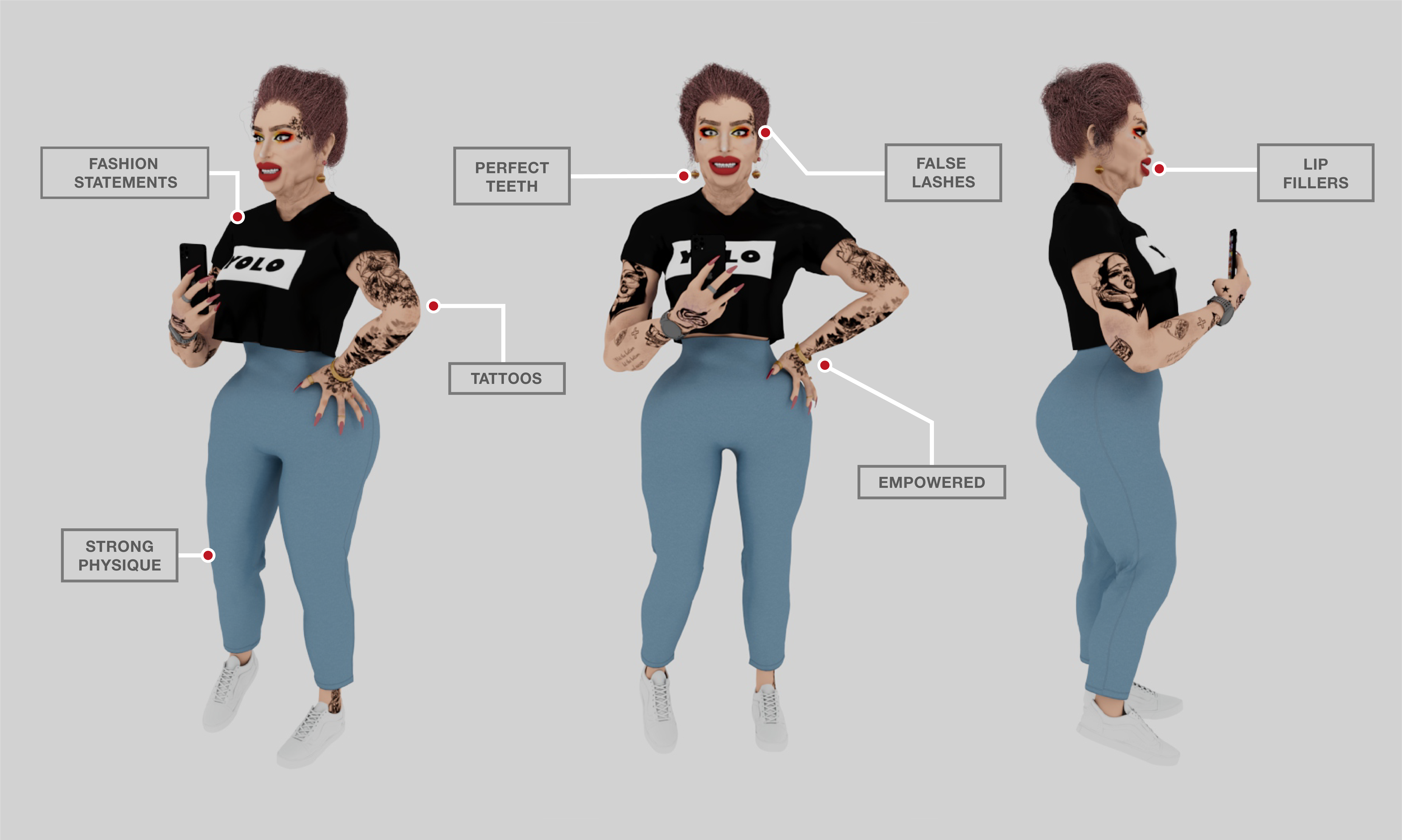 For today's youth, enhancing your look means more than applying a slick of mascara and your favourite lipstick. Instead, millennial women are taking their beauty routines to the next level with dermal fillers. These injectables are used to fill lines and wrinkles and add volume to lips and cheeks.
While dermal fillers were once the preserve of celebrities, ordinary young people are increasingly opting for these procedures to get the looks they love. In fact, a poll of the VICE UK Snapchat audience revealed that over half of some 51,000 UK respondents (59%) viewed these beauty treatments as comparable to getting a manicure or haircut.

From classic semi-permanent eyelash extensions, to LVL lash lifts, to Russian volume lashes, in 2022 there's a world of choice when it comes to maximising your natural eyelashes. For many young women today, lash enhancements are a crucial part of creating their favoured looks.
Will this trend for long, luscious lashes continue? After years of false lashes, we think millennials may find it hard to drop this part of their beauty regime as they grow older.

According to data from the Oral Health Foundation, millennials are forking out £750 a year on dental care - more than any other generation. Teeth whitening is the most popular cosmetic procedure, with 42% opting for it.
If this trend continues, there might be a lot more grandparents with Hollywood smiles in decades to come.

In the past, tattoos and femininity did not go hand in hand, and women with tattoos were often stigmatised. In contrast, younger people of today don't bat an eyelid at women with inked skin. In fact, a study by the Statista Research Department from 2015 revealed that women in the UK are more likely to have tattoos than men.
Judging by millennial women's love affair with tattoos, we expect to see a lot more grandmothers with ink in future.

Younger people today are said to be highly aware of social injustice and they're known to wear their hearts on their (literal) sleeves when it comes to their beliefs and values. Whether it's 'YOLO', 'Time's Up' or something else, millennials often choose clothing that communicates a message. With no shortage of social justice movements to support, you shouldn't be surprised if young people are still wearing their slogan t-shirts with pride in later life.
Millennial women tend to understand how important exercise is to their physical and mental wellbeing. With the body positivity movement making waves and more emphasis on getting young women into sport, women aren't afraid to get a sweat on. They're not scared to build some muscle either. In recent years, the waif look has fallen out of favour and been replaced with a sculpted, toned appearance that can only be achieved through exercise. Strong is the new skinny, as they say. And we expect older ladies of tomorrow to be stronger than ever.
More and more, young women of today are taking control of their careers by building their own businesses and assuming positions of power. Whether they're setting up their own start-ups, turning hobbies into side hustles or taking their places at boardroom tables, in today's world, a woman's place is wherever she wants to be. And with people living longer, tomorrow's grandmothers may find themselves doing what they love for longer.
Copyright © 2023 Chums
PayPal Representative Example:

Representative 23.9% APR (variable) Purchase interest rate 23.9% p.a. (variable) Assumed Credit limit £1,200

Finance provided by PayPal Credit. Credit subject to status. Terms and conditions apply. UK residents only.

CHUMS, Unity Grove, Knowsley Business Park, Liverpool, L34 9AR, acts as a broker and offers finance from PayPal Credit. PayPal Credit and PayPal Pay in 3 are trading names of PayPal UK Ltd, Whittaker House, Whittaker Avenue, Richmond-Upon-Thames, Surrey, United Kingdom, TW9 1EH.