For the majority of us, a summer holiday is something we look forward to all year long.
Yet year after year we seem to forget how fast they come around. According to a survey by the Post Office, 37 per cent of holidaymakers admit to being disorganised packers, so we're giving a helping hand and sharing our top tips…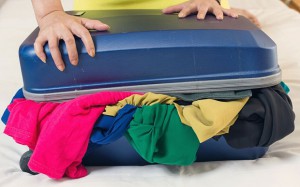 Before you go:
First things first, make sure you have your passport and check it's in date
Holiday insurance – you can pre book your insurance in advance. Just select the dates you need it to be valid to and from. Here are some of our favourite sites to give you a head start http://goo.gl/yFNNVa, http://goo.gl/YkrAc, http://goo.gl/19SgP
Boarding passes – be sure to check in online and print off your boarding passes to save yourself some queuing time at the airport
Baggage – make sure you've added the amount of bags you intend to take with you to your booking. Double check the weight limits so you're not surprised with any charges when you get to the airport
Packing:
Getting started is always the hardest part – putting heavy items such as shoes on top of the wheels helps to balance the case out and stops any clothes getting squashed by them
Whether you choose to fold, roll or bundle your clothes into the suitcase, the key is not to over-pack! Squashed clothes become creased clothes
Don't put anything valuable or irreplaceable in your suitcase; if it is eligible to go into your hand luggage keep it in there
If two or more people are travelling, split belongings between checked luggage so if one case goes missing, each of you will still have a change of clothes
Once you've put all your clothes in, make sure your beach towel is the last thing to go in and lay it across the top so everything is held in place
Add something memorable onto your suitcase handle – chances are most people will have a case similar to yours so it's a good idea to have something to tell them apart
Once this is all done, it's time to simply sit back, relax and enjoy your holiday!