Sorry, your browser is out of date and some features may not work. Please use a more up-to-date browser to use all of the features of chums.co.uk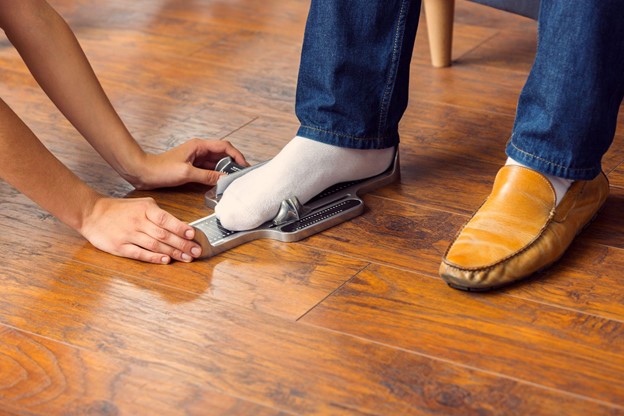 Most people don't give much thought to their
shoe
size once their feet stop growing as a teenager, but in fact the shape and size of feet can change considerably beyond this point, often becoming wider with age. This means that many adults end up wearing shoes that are too narrow for them, causing discomfort and in some cases injury.
Shoes that are too narrow can lead to problems such as blisters, and over time they can cause a condition known as hammertoes, which happens when feet are wedged into shoes that are too tight in the toe box area, leading to the toes becoming misshapen.

Wide fit shoes are designed to prevent these problems. But what exactly does this term refer to, how wide actually is this footwear and how do you know if you need wide fit shoes? Keep reading for the answers to all these questions.
What does wide fit shoes mean?
As their name suggests, wide fit shoes are quite simply shoes that are designed to provide more room for the foot. As well as being wider, this footwear is also deeper at the toes and around the instep. This helps to ensure that broader feet have all the space they need. They are designed to allow the toes to spread naturally without being squeezed and pinched.
Often, these shoes are marked with letters to denote the sizing. For example, they may be marked 'EE' or 'EEE'. However, this varies between different brands.
How much wider are wide fit shoes?
There is no single answer to this question. That's because the extra width provided by
wide fit shoes
depends on a number of factors, including the overall shoe size. For example, an EE extra wide shoe will be wider in a size 7 than a size 5. The difference in width also depends on brand because of variations between manufacturers.
However, to give an example of the sort of difference you might see, a men's standard width size 7 shoe may have a width fitting of 234mm, while an EE width fitting in the same size and the same brand may be 246mm.
How do you know if you need wide fit shoes?
There are a few sure signs that you need to switch from regular to wide fit shoes. First and foremost, if you often try shoes on that feel comfortable in terms of length but are too cramped at the sides, the chances are you need to move to a wider pair. It's a common mistake for people to assume that if shoes feel too tight at the sides, they need to move up to the next size in length, but this can result in an uncomfortable fit, often with too much extra space at the heel or in the toe box.
Another giveaway that you probably need wide fit shoes is if your feet tend to feel cramped regardless of the style of footwear you have on. If either of the above points applies to you, it's probably time to try out some wide fit shoes.
Thankfully, there are plenty of stylish and comfortable options to choose from, whether you're looking for wide fit slippers, trainers, boots, smart shoes or anything else.
To get a precise idea of how wide your feet are and to help ensure you find the perfect fit, you can measure your feet. To do this, take a fabric tape measure and wrap it around your foot at the widest point. This is usually at a slight angle just below your toes. Take the measurement in millimetres, as this is how foot width is recorded. You can then use online guides to find out what size that may correspond to in width fittings according to different manufacturers.
A top tip is to measure your feet at night. This is because during the course of the day, your feet may expand slightly and it's best to get shoes that will provide a comfortable fit at all times, rather than being too tight after you've been standing up and moving around during the day. Also, make sure you measure both feet as one may be wider than the other.
Having well fitting shoes that are wide enough for your feet can make a big difference to your comfort levels and mobility, so it's something that everyone should pay attention to.