We have noticed you are using an older version internet browser. To gain the best experience from our site we recommend upgrading your internet browser.
What to wear in a wheelchair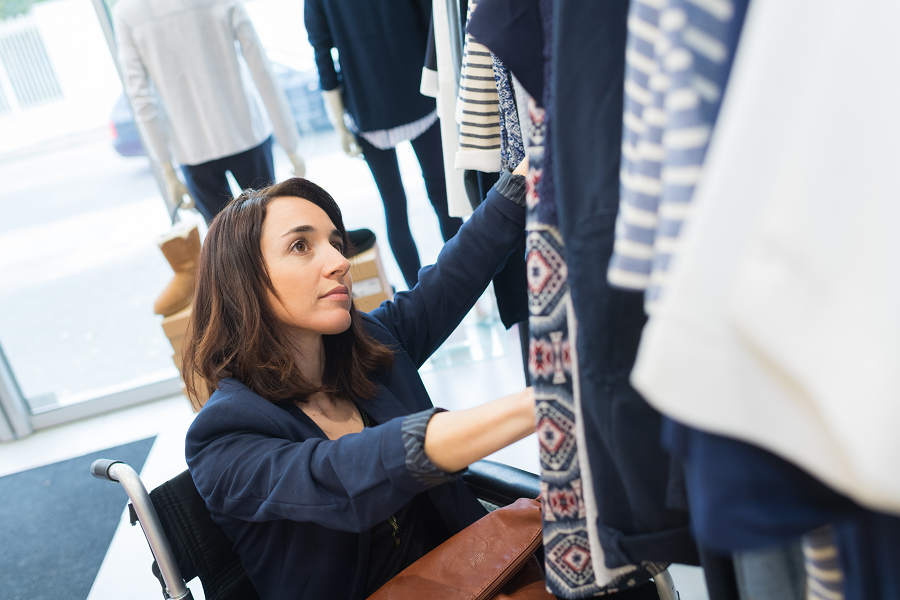 Whether you use a self-propelled wheelchair or an electric version, choosing the right clothes to wear can make a difference to your comfort levels, your personal safety, and the safety of others around you. It's all about making sensible decisions to ensure that your clothing doesn't get in the way of your life and keep you from having a good time.
How to dress in a wheelchair
One thing able-bodied friends, helpers and loved ones might not realise is that using a wheelchair has an impact on what clothes are right for you. Below, we'll give advice on how to consider which clothes to wear on an everyday basis, but it's important to remember that this is general, unspecialised advice. Different makes and models of wheelchair can be built to different specifications, and this can change the impact the chair has on your clothing choices and vice versa.
At the end of the day, making the right decision is a personal thing, so don't feel like you have to stick to a piece of advice if it doesn't work for you. Keep reading to find our suggestions for what to wear in a wheelchair.
One of the most important things to consider when picking out an outfit for the day is whether or not it will interfere with your safety and mobility. In particular, it's vital to think about the likelihood of your clothes getting caught up in the wheels of your chair. This can make it more difficult to get around and may even cause injury or damage to property. Long, flowy skirts, dresses and trousers can be common culprits for this.
While one solution may be to choose shorter or tighter-fitting clothes, there may be other workarounds you can employ in order to continue wearing the clothes you love. For example, you may be able to use clips or tucks to keep the fabric well away from the wheels of your chair. Furthermore, it can be a good idea to give an item a road test before deciding whether or not it can be safely worn in your wheelchair. You may find that, for example, your skirt looks flowy, but doesn't interfere with the wheels – in which case, by all means wear it!
It's also worth noting that the wheels of your chair pick up dirt from the ground. For users of self-propelled wheelchairs, it's likely that some of that dirt and grease will end up on your sleeves if they are long and baggy. Usually this comes out in the wash, but it's something to be aware of, particularly if you're going out to an event or party where you want to look your best. You might also want to wear gloves when you know you're going to be doing a lot of pushing yourself around to give your hands a little extra protection.
Consider your mobility levels
Lots of people who use wheelchairs are also ambulatory – in other words, they can walk short distances, but may need a wheelchair to go further or to substitute for long periods of standing up. This can make choosing what to wear a little more difficult when it comes to the length of your trousers or skirt. When we sit down, our clothes tend to ride up – and many wheelchair users buy longer-leg clothes to account for this. However, these may then be too long when you stand up and move around. Depending on how much excess fabric there is, this could then impede your mobility when you're on your feet.
If you expect to be walking around and using your wheelchair on the same trip out, you'll need to consider how much leg coverage your outfit of choice can provide.
Whether you're ambulatory or use a wheelchair all the time, footwear is important. Not only do shoes help to protect your feet in the event of spilled drinks, dropped items and accidental knocks, but they also keep your feet safe from everything the weather can throw at you. Sunburn, cold weather and rainfall can all cause problems in their own way, particularly if you lack some or all of the feeling in your feet.
Staying warm is integral to your comfort as well as helping to keep you protected from illness and other health conditions. But it can be harder to stay warm when you're in a wheelchair. Since you're not walking around as much (or at all, in some cases), you're not generating as much warmth through the muscle movement and pumping of your blood – which leads to getting cold.
For this reason, it's generally always a good idea to keep some warm clothing with you, even if you're not actually wearing it all the time. Having a snug jumper or blanket close by will allow you to stay warm if you begin to get chilled. It also allows you the freedom to wear lighter clothes in the interim, knowing you have that backup knitwear option just in case.
Copyright © 2023 Chums
PayPal Representative Example:

Representative 23.9% APR (variable) Purchase interest rate 23.9% p.a. (variable) Assumed Credit limit £1,200

Finance provided by PayPal Credit. Credit subject to status. Terms and conditions apply. UK residents only.

CHUMS, Unity Grove, Knowsley Business Park, Liverpool, L34 9AR, acts as a broker and offers finance from PayPal Credit. PayPal Credit and PayPal Pay in 3 are trading names of PayPal UK Ltd, Whittaker House, Whittaker Avenue, Richmond-Upon-Thames, Surrey, United Kingdom, TW9 1EH.