Sorry, your browser is out of date and some features may not work. Please use a more up-to-date browser to use all of the features of chums.co.uk
SEEN A CHUMS ADVERT IN THE PRESS?
We advertise weekly across national press, bringing you quality clothing and home items at amazingly discounted prices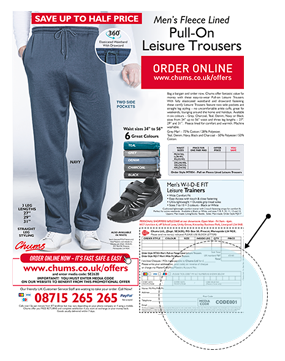 FIND YOUR CODE
You'll locate a code on all Chums adverts at the bottom of the page
USING YOUR CODE
Enter your media code above to apply your advert offer price. It will automatically be applied to the item(s) in your basket. Alternatively, you can always enter your code at the checkout.
*Only one media code can be used per transaction
We're always here and happy to help. if you have any issues using your code please contact us for assistance.


Place an order and/or speak to one of our friendly advisers using the number: 08715 265 265

calls cost 13p per minute plus network extras



Send us an email
enquiries@chums.co.uk


Come see us in store at Chums Ltd Unity Grove, Knowsley Business Park Merseyside, L34 9AR