Jeremy Clarkson rose to fame back in 1988 during the original Top Gear, and since then has hosted TV shows such as Robot Wars and The Grand Tour, and recently became the new host of Who Wants to be a Millionaire?
He's known for being outspoken and opinionated, as well as hugely knowledgeable in all things cars and engineering. However, he isn't known for being fashionable or a trend setter.
His typical outfit usually consists of baggy jeans, loafers, and some kind of bright and patterned shirt. He's also a fan of mixing a suit jacket with jeans, something he says he adopted from Richard Hammond who's 'aware of trends much more than [Clarkson is]'.
But we think he could look much smarter. We've taken an image of Jeremy Clarkson featuring him at a red carpet event and we've improved his whole outfit. From adding a tie, to neatening his hair and shortening his baggy trousers, we've given him some well needed je ne sais quoi.
What do you think of our improvements? Watch the video below!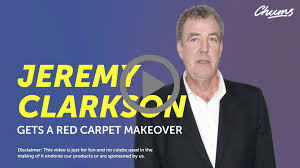 *The video above is just for fun and no celebs used in the making of it endorse our products or are sponsored by us. Fashion should be personal, stylish and should make you feel confident.
Come and take a look at the whole chums range. Items perfect for yourself and your home to keep you looking stylish and comfortable all season long.
Sources:
https://www.gq-magazine.co.uk/article/jeremy-clarkson-top-gear-2006-interview