How many times have you opened your overflowing wardrobe only to decide that you have 'nothing to wear'? Of course, you don't really have nothing to wear - your wardrobe is full to bursting with clothes that you've owned for years. Instead, what you mean is there isn't anything that you want to wear.
If this is the case, what you might be looking for is a minimalist wardrobe. Imagine being able to get dressed in the morning without having to think about what goes with what. Think about a world where you can spend less time worrying about putting an outfit together.
Minimalism teaches you to invest in things that you love, rather than buying things because they're in the sale or because they're a bargain. You can buy something that will become a staple and that will match every other item in your wardrobe. It could make your closet a neater and tidier place and you'll feel good no matter what you put on. There are so many benefits of having a minimalist wardrobe.
Below, we've outlined what a minimalist wardrobe looks like and how you can create one yourself.
What does a minimalist wardrobe look like?
Whereas a capsule wardrobe is much more limited to how many pieces of clothing you can have, a minimalist wardrobe is about matching colours and patterns so that every item can be worn with every other item. This means that a minimalist wardrobe will mostly be similar in colour rather than limiting yourself to a set number of items.
Therefore, a minimalist wardrobe might be one that has a certain colour palette or uses many of the same materials or patterns to ensure that everything will go together, a little like the image below.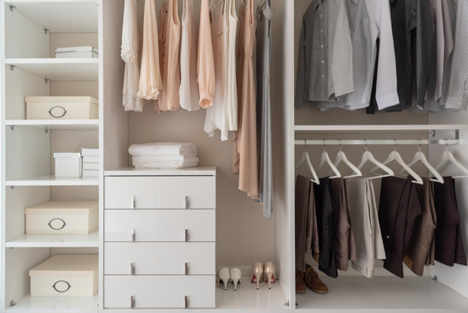 Benefits of having a minimalist wardrobe
There are so many benefits of having a minimalist wardrobe. If you are thinking of adopting this type of wardrobe but are not sure how it may help, below we have outlined some of the major benefits that may help to convince you.
1. It saves you time and money
By keeping a minimalist wardrobe, you will spend less time shopping for clothes both online and on the high street. This will also help to ensure you spend less money.
2. You will invest in clothes that last
Focusing on just a few staple items rather than multiple cheaper pieces of 'disposable' fashion will encourage you to purchase high quality items of clothing that will last longer.
3. A less cluttered wardrobe
By definition, a minimalist wardrobe is a less cluttered one. This can make your living space - be that your bedroom or your dressing room - a more pleasant place to spend time, and mean that getting dressed is an easier, less stressful task.
4. It inspires creativity
Having less choice means you have to be more creative with the items you do have to ensure you keep your outfits looking fresh. Mixing and matching different pieces and creating new outfits using different accessories forces you to become a more creative and innovative dresser.
5. You won't hoard unwanted items
When you have a minimalist wardrobe you don't have to worry or feel guilty about unworn items gathering dust in your cupboard. After a few weeks of adopting this lifestyle, it will become clear which items are essential and which are not. The items that are going unworn can be given away and can then make room for new items that will complete your minimalist wardrobe.
6. Clothes shopping becomes easier
As we explain later in this blog, many people who use a minimalist wardrobe adopt a defined style and colour palette to make matching and pairing as easy as possible. This has the advantage of making shopping easier, as you can stick to one style, colour pallet or even brand.
7. It's can be more eco-friendly and ethical
By investing in fewer, typically higher quality items, you are choosing to opt out of 'fast fashion'. This may encourage you to only shop from ethical brands or buy higher quality items second hand, meaning you are not contributing to the unethical and environmentally irresponsible aspects of fast fashion.
How many items to put in a minimalist wardrobe
While there is no strict maximum or minimum number of items of clothing needed to make up a minimalist wardrobe, most contain between 15 and 50 pieces. However, as we explain below, the key aspect of owning and maintaining a wardrobe of this type is to only have clothes that you need and still plan on wearing regularly, while discarding items you no longer wear or want. This generally means a smaller collection of items is more realistic when it comes to maintaining a minimalist wardrobe.
How to put together a minimalist wardrobe
Below, we've outlined exactly how you can begin to create a minimalist wardrobe of your own.
Sort out your current wardrobe
Before you can begin buying more clothes, you need to sort out the ones that you already have. Throw out any clothes that:
You haven't worn in two years
Are damaged or are looking very tired
Don't fit
Your wardrobe will likely begin to look much clearer and it's easier to see what you already have and what items you may be missing.
If your clothes have some use left in them, they could be donated to charity to prevent them from going to landfill. If they're damaged, then you could put them in the general bin, or you may be able to find someone who can reuse the material to turn it into something completely different, like a new cushion.
Minimalism is all about having good quality clothes in a lower quantity, instead of having bundles of very cheap clothes. This is why it's best to throw out any clothes that are very worn and buy good quality replacements instead.
Invest in some classic items
Once you've got rid of some items, you need to have a think about what your wardrobe is missing. Maybe you've got multiple blouses but none that are white. Perhaps you need a pair of black boots that can be worn with almost any outfit. These staples are exactly what your minimalist wardrobe needs, so it's worth investing in them.
It's also a good idea to have a think about any classic items. Every woman's wardrobe should contain a mixture of blouses, skirts, trousers and shoes in varying colours. For men, a variety of shirts, trousers, ties and shoes is a good idea. Remember to think about varying seasons too. Jumpers and a winter coat are a must. If you're missing any of these staple items, it may be worth investing.
Choose a colour palette
The main perk of a minimalist wardrobe is the ability to mix and match any pieces of clothing and know that they will go together. This means that you should pick a colour scheme and stick to it. You may choose to go with a pastel colour scheme that will encapsulate lots of dusky pinks and soft greens. You may prefer a more monochrome colour palette and prefer to wear lots of grey and black. Whichever colours you love the most and wear on a frequent basis, make sure you incorporate these into your scheme.
Mix and match
Now that you've got plenty of classic items in your wardrobe that are all of the same colour palette, you'll be able to mix and match nearly every item to create a new outfit. With three pairs of trousers, two pairs of shoes and five blouses, you could make 30 different looks.
Minimalist wardrobe essential items
Now that you know the benefits of adopting a minimalist wardrobe and how to get started, you need to know which items are essential. Below we have provided a crucial checklist which lists the items first women, and then men, should include in their minimalist wardrobes.
Women:
● x3/4 long-sleeved shirts
● x3/4 short-sleeved shirts/tees
● x2/3 casual skirts/dresses
● x2 pairs of good quality jeans
● x 1 winter coat
● x1 smart business outfit (trouser suit, or a blazer/jacket and smart trousers)
● x2 pairs of leggings/joggers
● x2 training tops
● x2/3 comfortable sweatshirts
● x2 pairs of comfortable flats
● x2 pairs of summer sandals
● x1 pair of running shoes/trainers
● x1 pair of versatile heels you can actually walk in
● x2 set of pyjamas
● x2 swimsuits
● x1 dressing gown/housecoat
● x10 pairs of underwear
● x3 comfortable bras
● x2 scarves for winter wear (ideally, one lightweight and one heavy)
Men:
● x2 solid colour t-shirts
● x2 solid colour sweaters
● x1 versatile navy or grey business suit
● x1 winter coat
● x1 white dress shirt
● x1 light blue dress shirt
● x1 solid colour/flannel button-up shirt
● x1 necktie (ideally in a versatile colour such as grey or navy blue)
● x2 pairs of jeans (ideally one dark wash and one light wash)
● x1 smart chinos
● x2 pair of training shorts
● x2 training shirt
● x1 pair of leather dress shoes
● x2 pairs of casual shoes (high-top canvas shoes, desert boots etc.)
● x1 pair running shoes/trainers
● x10 pairs of socks
● x2 set of pyjamas
● x10 pairs of underwear
● x2 swimming shorts
● x2 scarves for winter wear (ideally, one lightweight and one heavy)